While most blogger only mentions Bluehost or Siteground, there are more web hosting providers to choose from.
Your first thing to do and it is really important is always to choose your hosting when it comes to starting a blog, don't go and make a blog on free hosting cause it doesn't worth it.
Read more about what is self-hosting and why you need it.
Pin this for later:
Top 6 hosting providers
So here are some of the hosting companies where you can purchase your web hosting and allow you to start your work and make an income.
Did you know that with a non-selfhosting is more frustated and it is actually not free at all! So don't regret that little money you invest for the first time to start your business.
You don't have to overthink this cause it's more affordable than you think. These providers may only charge you less than $5/month. But you could get a discount if you use my links!
The web hosts where you can monetize your blog
SiteGround
Load Time: 722ms (fast)
Uptime: 99.99%
How much: $3.95/month (Save 60% off only for the first year with my link)
Support: Live Chat Support with Avg. Response Time 2 min.
Domain Included: No
Get Siteground if you want a reliable web hosting provider with great customer service, speed, and security.
You can get your WordPress blog immediately and includes unlimited bandwidth and also free daily backup, just with a StartUp plan.
1 click to install Wordpress while you have free security and free cache features also include free SSL certificate.
Bluehost
Load Time: 419ms (very fast)
Uptime: 99.99%
How much: $2.95/month (63% for the first year with my link)
Support: Live Chat Avg. Response Time 5mins
Domain Include: Yes
Most bloggers will recommend Bluehost because is the best well-known and is affordable.
There are also recommended by WordPress.org
Bluehost has also free 1-click WordPress install, free SSL and as mentioned above free domain.
WPEngine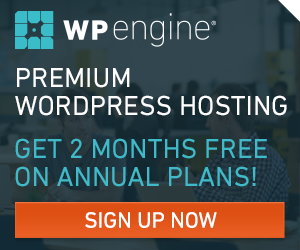 WPEngine is what you really need if you want unlimited data and free SSL certificate.
StartUp plan is also great to start with cause you get 25,000 visits/month, 10 GB storage, CDN Speed Boost.
24/7 support
If you use my link you get 20% off of your first month!
Cloudways
Cloudways is not the same as the other hostings, it is cloud-based.
What you get:
Free migration
Pay as you go, which means you only pay for the resources you consume
Free SSL certificate
No contract needed
Host unlimited applications on any plan
24/7 support
Dreamhost
Dreamhost is another affordable hosting provider to try out. For only $2.59/month you can start your blog.
And you will get:
Unlimited traffic
Fast SSD storage
SSL certificate
Free domain and email is only included when you upgrade to Unlimited plan which is only $5.95/month
Liquid Web
Liquid Web has several hosting solutions you can choose from like WordPress hosting, Cloud and even Woocommerce.
Now maybe it's a bit difficult to choose from so many hosting providers especially when you only starting out. But only you know what you need and what you can afford at the moment.
Hope you will find the one which really suits you!