Do you use every opportunity to earn more income from your business? Maybe there is one thing you are missing if you don't use an affiliate program for your online business.
And if so, you are likely to close out more than 30% of revenue because you are not taking advantage of it.
Having your own affiliate program takes only a couple of hours to make, no need to pay for it a lot of money and you can earn money while you sleep because your affiliates promoting your business.
And today I want to show you a powerful affiliate marketing plugin you can use to make this happen!
This post contains affiliate links and if you decide to click through I will get a small commission for that, but at no extra cost to you!
Pin this for later:
What is Easy Affiliate?
Easy Affiliate is the ultimate affiliate program that runs out-of-the-box on your existing WordPress eCommerce website. Is the complete affiliate program that seamlessly integrates with your existing WordPress site. This fully-featured plugin supplies the necessary tools to help you build a successful affiliate program and invite affiliates to market your products and/or services. The quick-and-easy setup will have you making money in a matter of minutes!
If you going to use Easy Affiliate you'll be able to:
Boost online sales by up to 30% with the power of referral marketing
Integrate with your WordPress eCommerce solution (including MemberPress) seamlessly and instantly

Launch your affiliate program fast with Easy Affiliate's pre-styled, theme-independent Pro Dashboard

Track commissions securely and accurately without third-party cookies

Always know how your program is doing with Real-Time Reporting

Build your email list alongside your affiliate program with Easy Affiliate's powerful 

Email Marketing

 integrations

And much more
No more need to pay another extra fee if you use MemberPress for your membership site and don't need to worry about compatibility issues because Easy Affiliate is built by the creators of MemberPress to make it easy for you to have the best experience with your own affiliate marketing.
Easy Affiliate ranks above other affiliate programs in affordability, user-friendliness, out-of-the-box features, security, and so much more. Check out the benefits of adding an affiliate program to your business, then discover everything Easy Affiliate has to offer to help put more money into your pockets!
Why use Easy Affiliate?
Having an affiliate program for your business is an effective strategy that builds awareness and also increases your sales.
But why should you stick with the Easy Affiliate plugin you might ask…
Low-risk and low cost – It is budget-friendly and will help you skyrocket your return on investment. And the best is you don't have to manage it for hours. Your affiliates will do the hard work for you and you only have to pay them what they earned.
More traffic to your site – If you have promoted your product ones and someone discovers the opportunity that you have an affiliate program, your affiliates will bring more people to your site.
Rank higher on search engines – With an affiliate program you more likely to boost your rankings. Adding an Easy Affiliate program is a sure way that your brand will be found on the internet.  Your brand identity will increase across all search engine platforms including blog pages, social media platforms, podcasts, and more.
Easy Affiliate's Buzz-Worthy Features
Easy Affiliate offers a lot of out-of-the-box features to help you get the most out of your affiliate marketing program.
Let's see some of them…
Perfect Payment Integrations 
Easy Affiliate's convenient payment integrations will take your eCommerce to the next level. No matter what you sell you can integrate with MemberPress, WooCommerce, and Easy Digital Download to make it easy to track initial and recurring payments.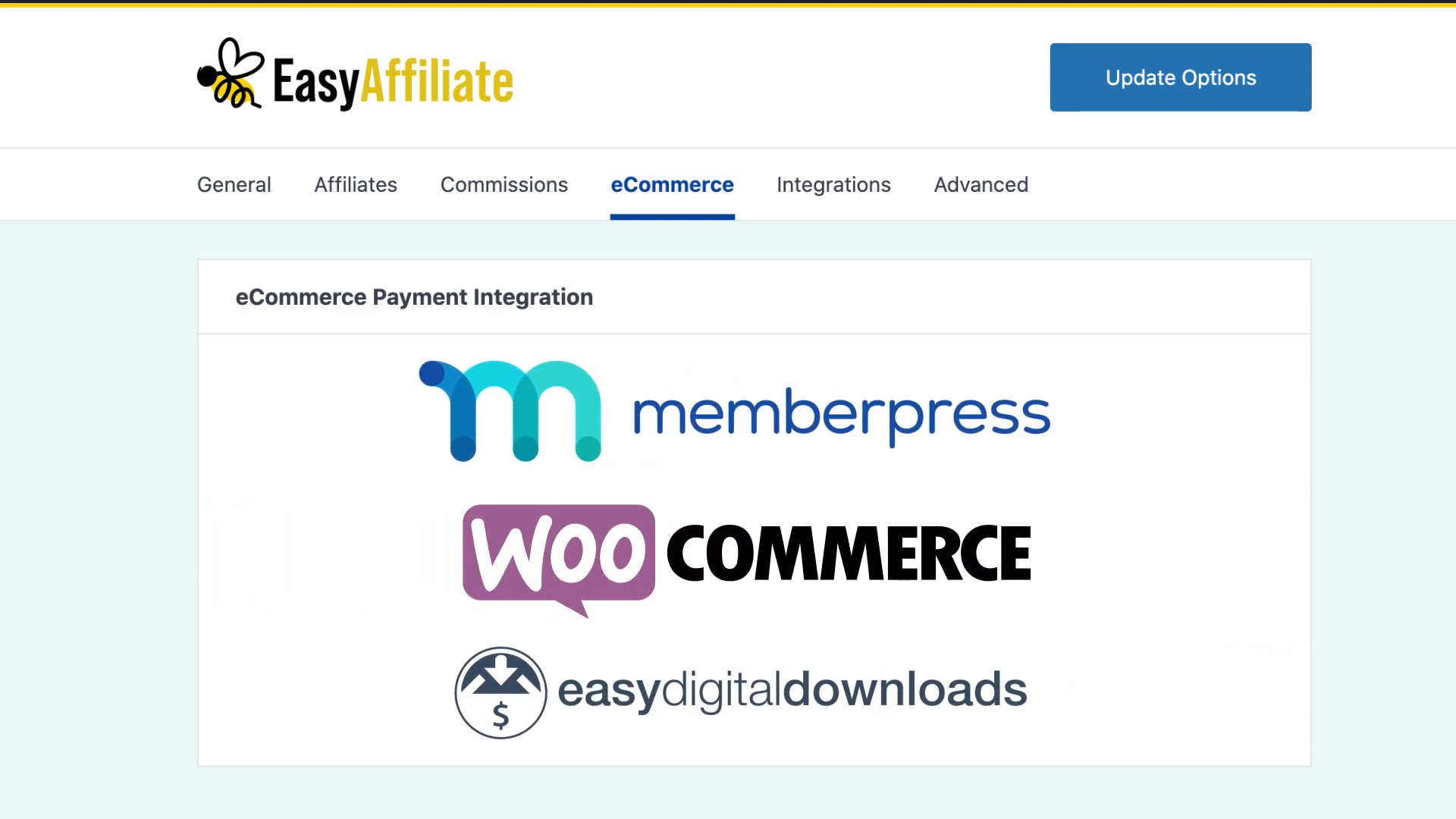 Top-Notch Security
In the highly profitable world of affiliate marketing, there are malicious thieves and hackers who want to rob you of your earnings. Affiliate fraud is one of the biggest threats to any affiliate program.
Now, fortunately, with Easy Affiliate, you don't have to worry that commissions will be stolen. With the Fraud Protection Add-On, your commissions will be accurately tracked and monitored to flag or reject suspicious affiliate behavior.
Personalized Affiliate Dashboard
Affiliates play a key role in the success of your affiliate program. So you want to provide them with the essential tools that will allow them to be successful with their marketing efforts. Easy Affiliate makes this easy to do with the Affiliate Dashboard.
The Affiliate Dashboard serves as the home base for your affiliates. Here, affiliates can manage their accounts to monitor their stats, edit their account information, view their payment history, and more: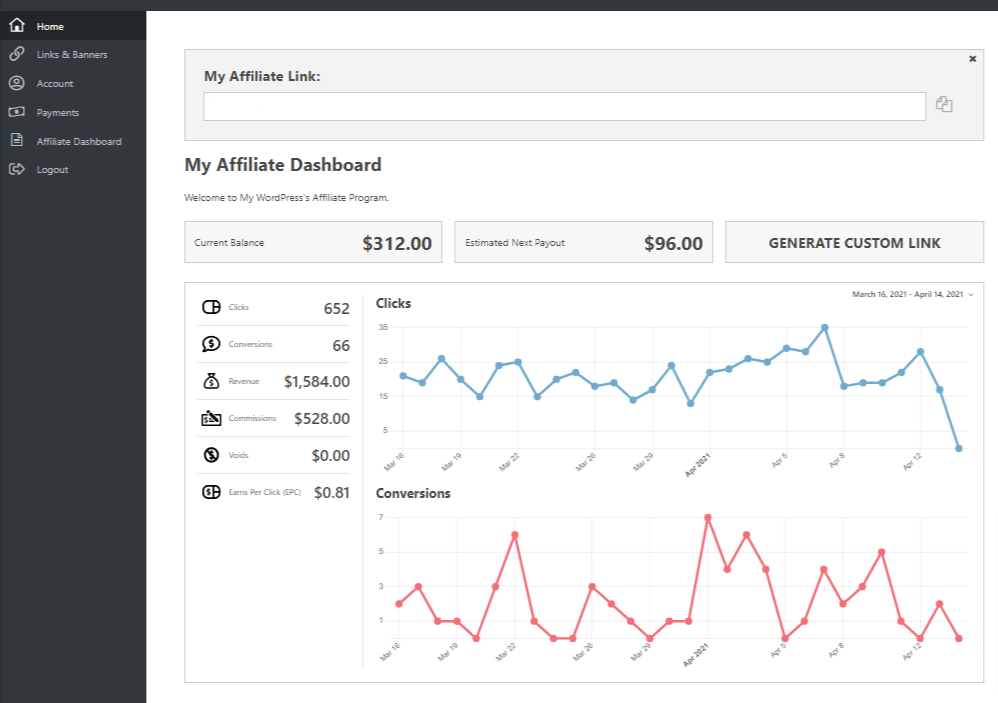 Your affiliates will be able to access anything and everything they need, such as links and banner ads or pull from a collective resource hub: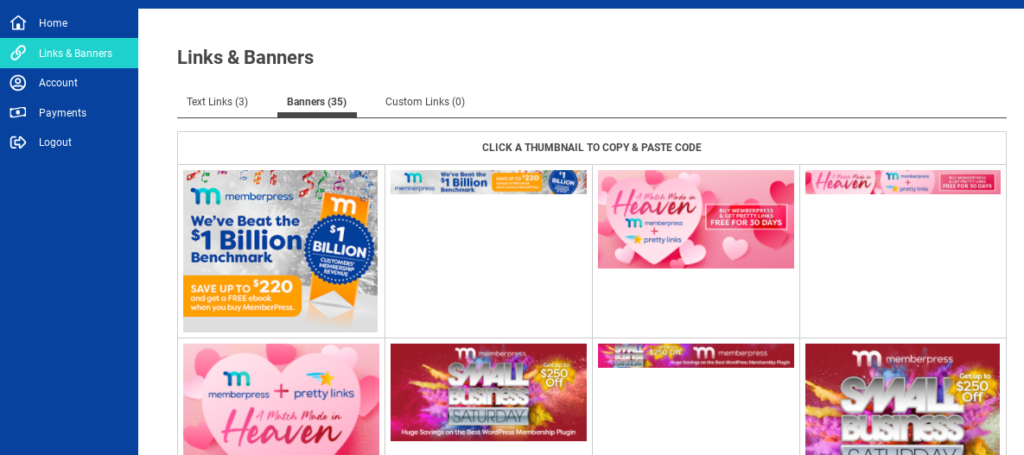 The Affiliate Dashboard is pre-styled, but as the admin, you can easily modify the look of your site to match your brand's identity– hassle-free! Build a consistent feel of your brand with customizable color schemes, insert a page header logo, and even write a friendly welcome message for your affiliates: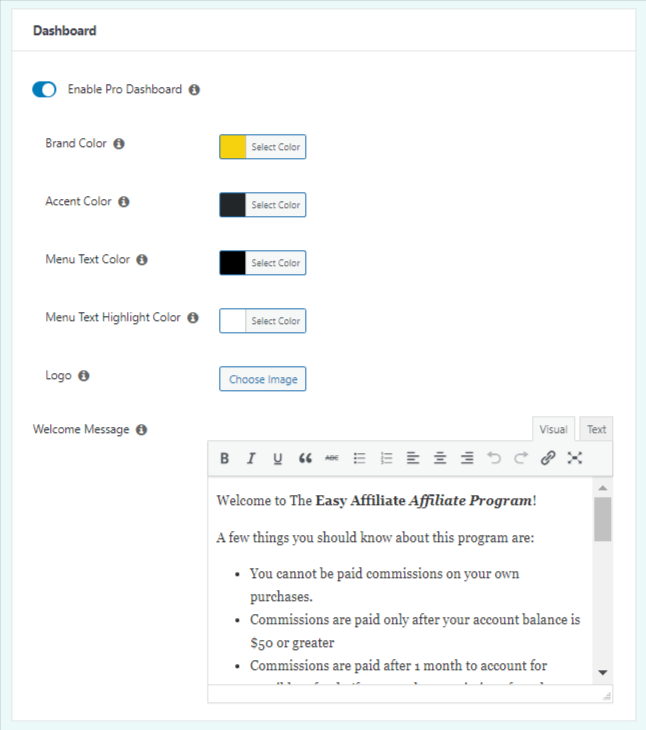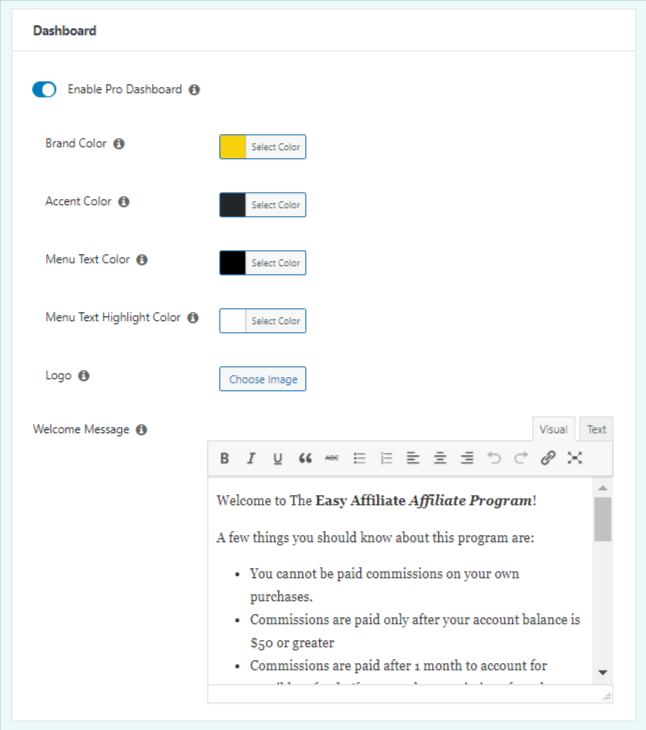 Centralize all the working parts of your affiliate program into one, easy-to-navigate Affiliate Dashboard.
Controlled Commissions Tracking
To attract skilled affiliates, you'll need to offer an appealing commission rate. Commission rates vary across different niche industries with many different factors taken into consideration, such as the price of a product, its value, and your audience.
Easy Affiliate allows you to set your own commission rate — but the customization doesn't stop there. You can also add multiple commission levels, override commission rates, and even create custom commission structures: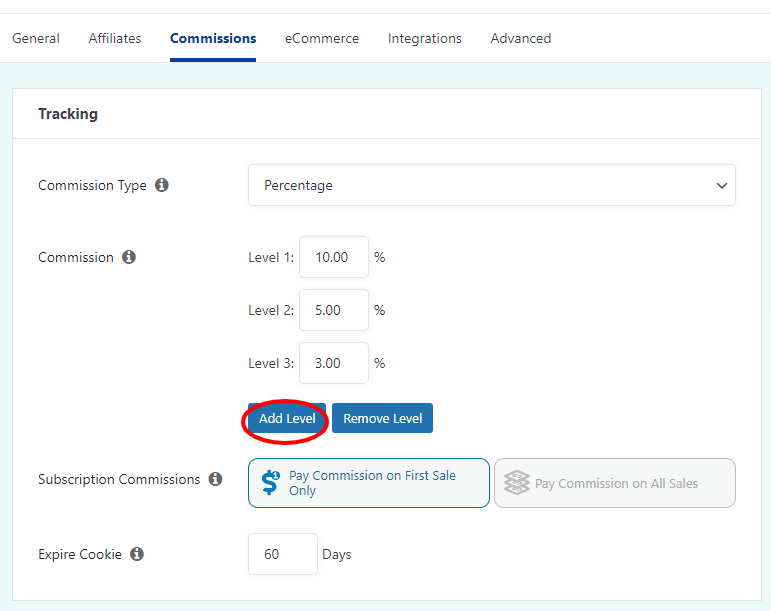 Painless Payroll Process
Paying your affiliates is a critical part of any affiliate program. Easy Affiliate offers several simple ways to pay your affiliates, including PayPal Mass Payment, PayPal One-Click payments, and offline payments.
Interactive Email Marketing 
Easy Affiliate integrates with popular email marketing services, including MailChimp, ActiveCampaign, and ConvertKit. Corresponding with your affiliates via email is a great way to provide them with up-to-date business information, such as an upcoming sale or a new product release.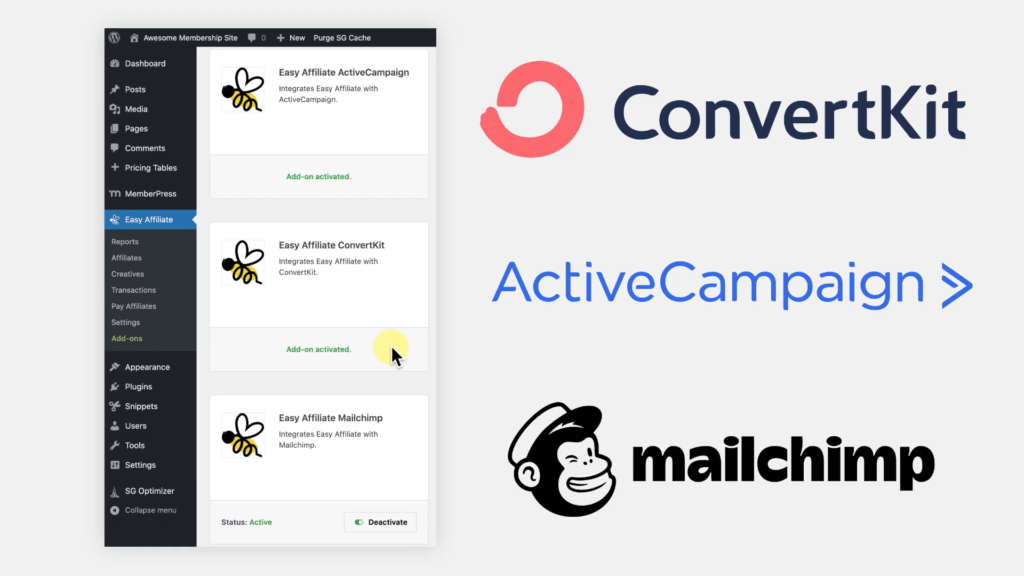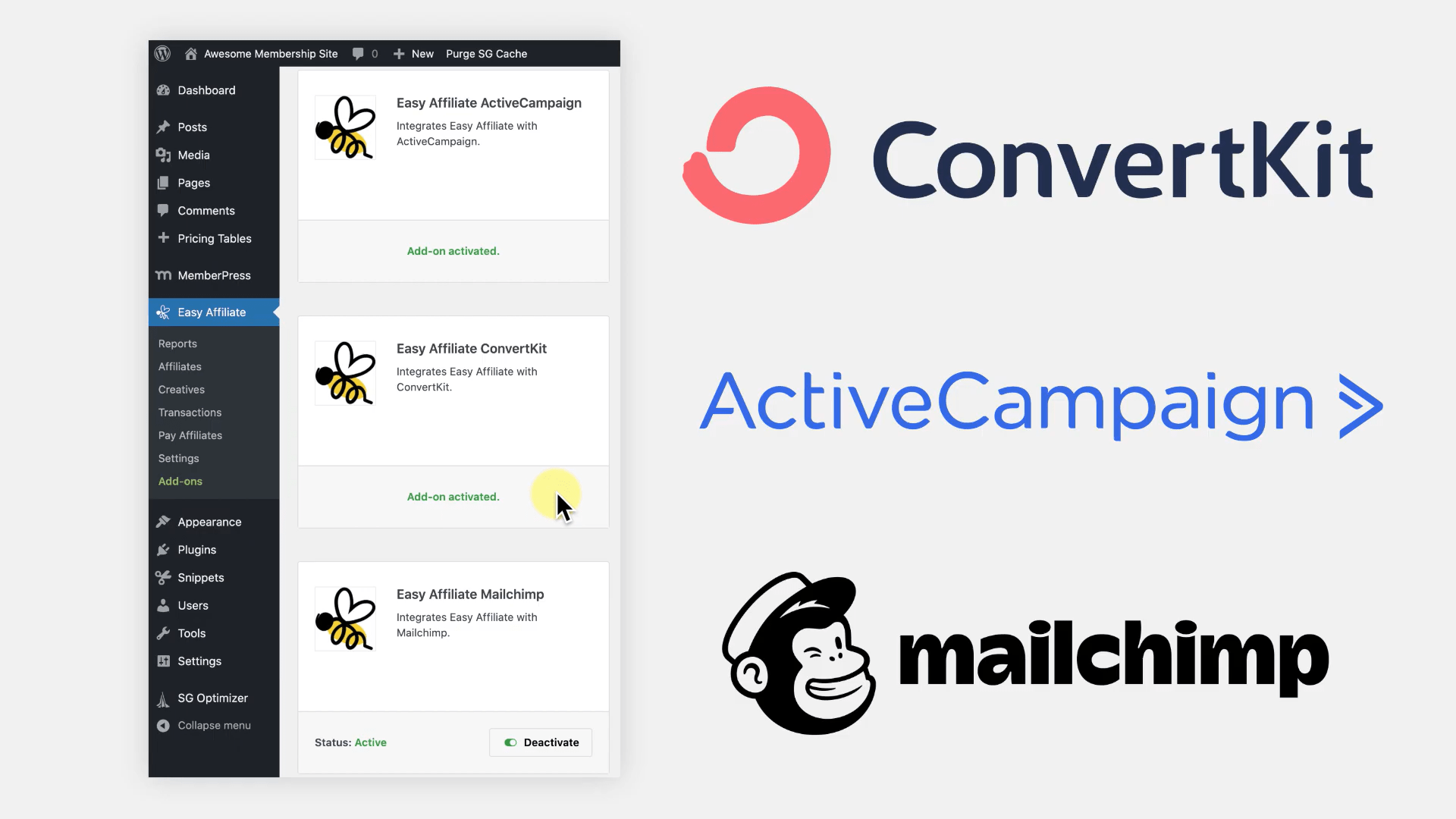 Easy Affiliate also has pre-designed email templates, making it easy to write and send auto-generated emails for situations like:
A Welcome Email – to let affiliate applicants know that they have been accepted into your affiliate program.
An Affiliate Sale Email – to notify affiliates when they have referred a sale and will receive a commission.
An Admin Commission Email – to inform the business owner (you) that an affiliate has successfully referred a sale.
How can you start with Easy Affiliate?
If you decided to give it a try and create your own affiliate program make sure you begin with this Affiliate Program Starter Kit.
Meanwhile, you learn about how to become an affiliate program owner you can choose an Easy Affiliate plan to start your program with the plugin on your WordPress site.
After that, you can install and active it and start the setup wizard.
I hope you will be successful in your affiliate program business. And also don't forget to learn more about MemberPress if you don't have started your membership site yet.