When you decide to launch an online shop you always have to think about how you could attract costumers to your store and purchase.
This could be really simple if you have the right tools for it.
And in this post, I want to show you a useful and powerful tool to let your costumers buy from you.
This post contains an affiliate link and if you make a purchase I will get a small commission for it but at no extra cost to you. Thanks for supporting!
Pin this for later:
If you are really serious about making your costumers happy then Spin and Win coupon wheel campaigns are helpful to use. And this will lead you to boost your engagement and conversions higher.
Cause the fact is that Gamified opt-ins are turning 2-3% conversion rates into 30% or more. It works because it is memorable and engaging and people will be interested in your brand and get curious to know more.
They will more likely to subscribe to your newsletter and/or buy from your store.
It is a great opportunity you don't want to miss cause by this you will gain more costumers just by having a pop-up which will help you and it only takes a few minutes to create.
So are you ready to learn how to create the powerful coupon wheel pop-up? Read along!
How to Create a Coupon Wheel Campaign
Before you get started, you will have to join OptinMonster, and to able to use the Coupon Wheel campaign you'll need Growth Plan.
Next, go to your Campaign Dashboard where you click on Create New Campaign so you can create it.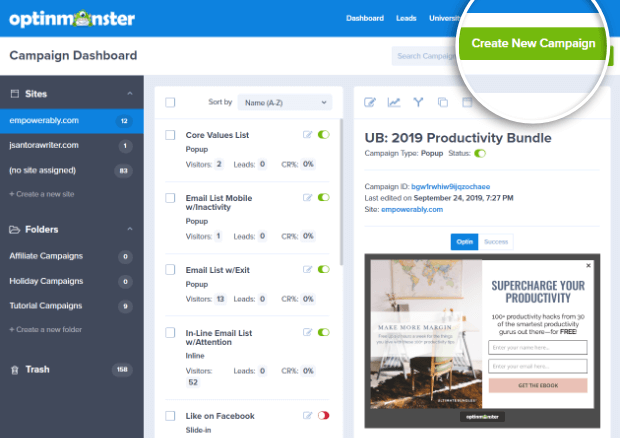 Next, choose your campaign type. In this tutorial we use Fullscreen.

Now, you'll choose your campaign template. Obviously, you'll want to choose a coupon wheel template.
You'll notice that there are 3 color options pre-built for you. However, these campaigns are fully customizable. If you want purple or chartreuse, go for it!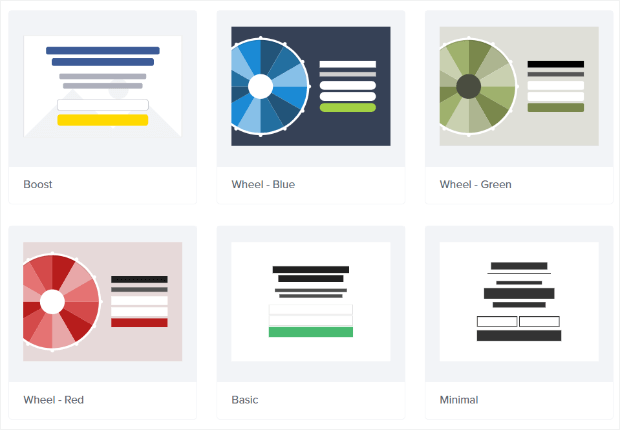 We're going with Wheel – Blue for this tutorial.
Give your discount wheel campaign a name that will help you remember it and choose the site you want the campaign to appear on (don't worry, you can choose later if you want).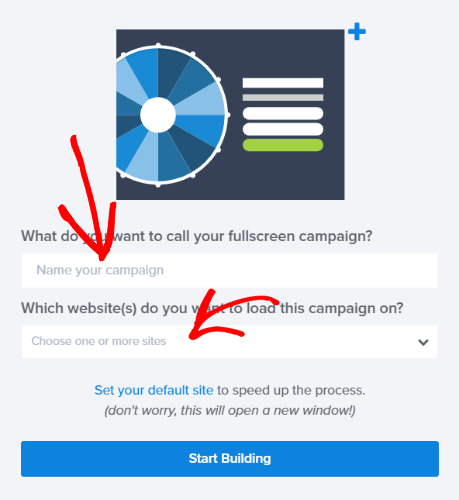 Click Start Building and you'll be taken into our easy-to-use drag and drop builder.
Design Your Campaign
As I mentioned earlier, your campaign is fully customizable. To change text, colors, images, and more, just click on the element you want to edit in the live preview (right side of the screen).
This will bring up the editing tools (on the left side of the screen) where you can customize to your heart's content:
You can even change all of the wheel selections to customize discounts and coupon codes: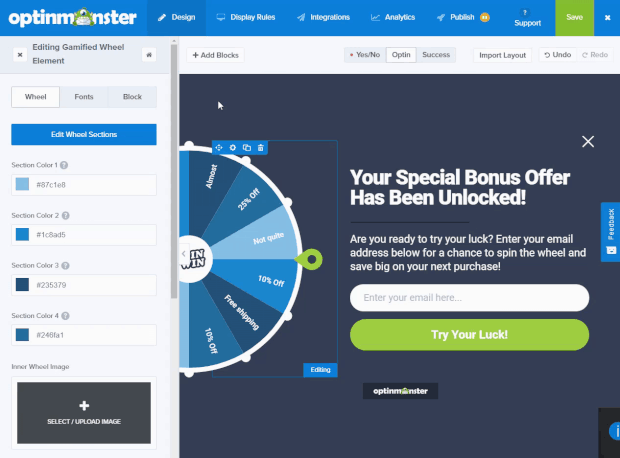 Set Your Display Rules
Once you have your coupon wheel campaign designed the way you want, it's time to set up display rules.
OptinMonster has an extremely powerful rules engine so you can fine-tune who sees your campaigns and when. This results in higher conversion rates!
We're going to set up our coupon wheel campaign to appear if the visitor tries to leave after seeing the checkout page.
This is a campaign designed to reduce cart abandonment. If the visitor has seen the checkout page it means that they've started the checkout process, so leaving your site at that point means that they're abandoning their cart.
Perhaps winning a discount will convince them to complete their purchase?
And, even if it doesn't, spinning the wheel at all gets them subscribed to your email list so you can market to them later!
Here's what the Display Rules look like: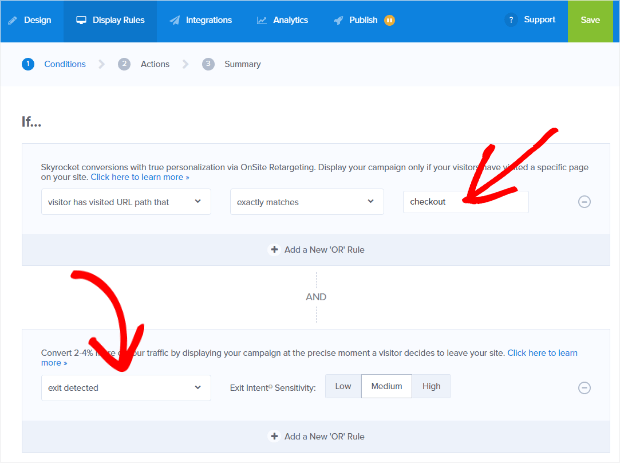 We start by setting a condition of If the visitor has visited URL path that exactly matches checkout (you'll want to replace "checkout" with whatever your checkout page slug is).
Then, we add exit-intent technology, connecting the 2 rules with AND so both conditions have to be met to trigger the campaign.
Add Integrations
To collect email addresses from your visitors, you'll need to add an integration to connect your email marketing service provider.
I personally use MailerLite but in this setup, we going to use Constant Contact as an example. If you don't use Constant Contact or Mailerlite, don't worry, OptinMonster integrates with just about everything.
From the Integrations tab, click on Add New Integration. Then, choose Constant Contact from the Email Provider dropdown: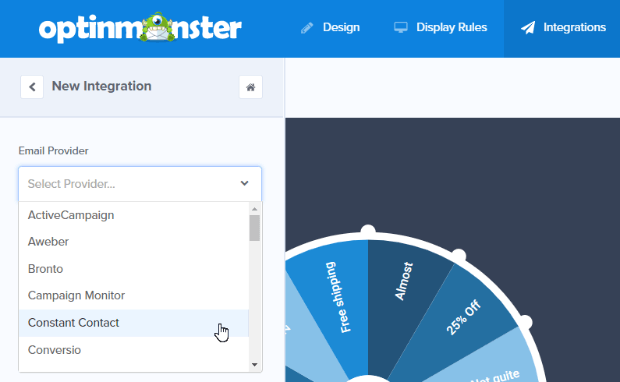 If you've never connected Constant Contact to your OptinMonster account, you'll need to do that by clicking Register with Constant Contact:

You'll need to then log in to Constant Contact and click Allow: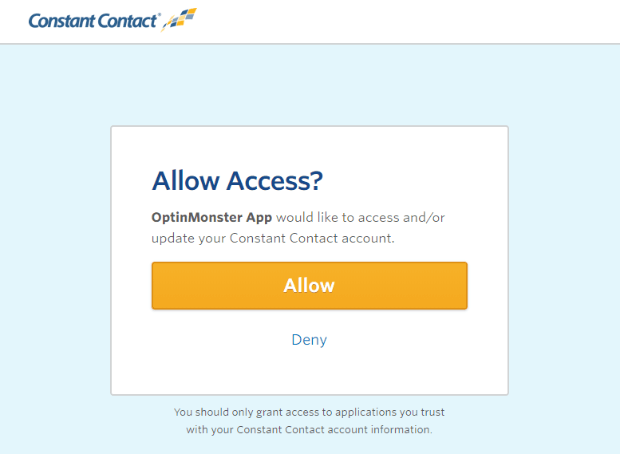 Now you'll be able to add an Account Label (just an internal name so you can easily identify the account).
Then, click Connect to Constant Contact.

Finally, choose the Email Provider List you want new subscribers added to. Constant Contact defaults to General Interest.
Pro Tip: Don't have an email service provider yet? Add Monster Leads integration to collect email addresses anyway!
Save your coupon wheel campaign and you're ready to move on!
Connect Analytics
OptinMonster comes with analytics built-in, but if you want to connect Google Analytics it's really easy to do.
Under Non-Active Connections on the Analytics tab, you'll see Google Analytics. To connect, click the Connect button.

If you've already added a Google Analytics account, you'll be able to select it from the dropdown. If you're adding Google Analytics for the first time, choose the Add a New Google Connection option from the Google Analytics Account dropdown.

When you click to add a new account, you'll need to then click the Generate Authentication Code button.

You'll then get a new window that asks you to connect OptinMonster to your Google Account. Select the Allow button.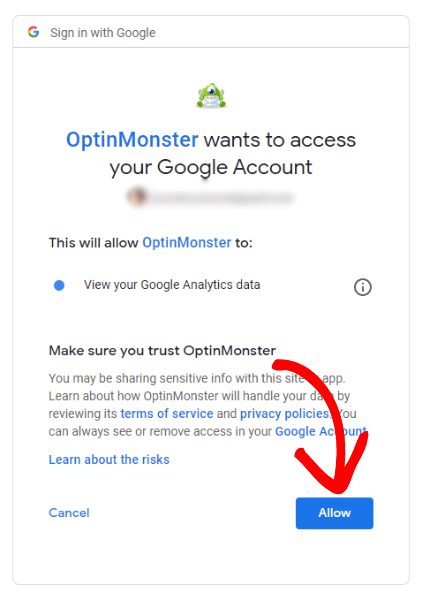 On the next screen, you'll get an authentication code, copy that code before continuing.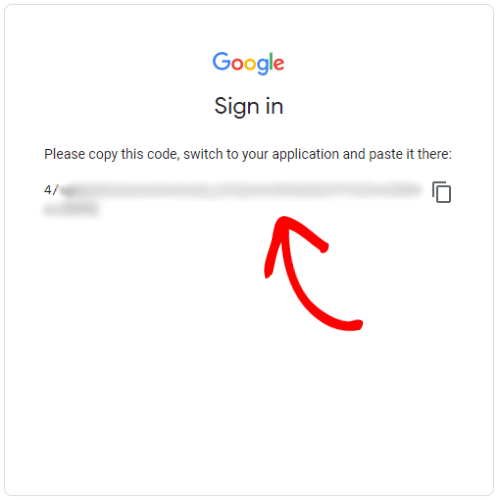 Now that you have your code, go back to the campaign builder and paste it into the Google Authentication Code field. In the Account Label field give your integration a unique name. Use something that will make this integration easily identifiable for you.

Click the Next button.
On the following screen, you can choose the Website Profile. We recommend choosing All Web Site Data of the property that you want to connect.

Save your campaign.
Publish Your Campaign
All that's left is to publish your coupon wheel campaign!
Optinmonster gives you several easy ways to get your campaign live: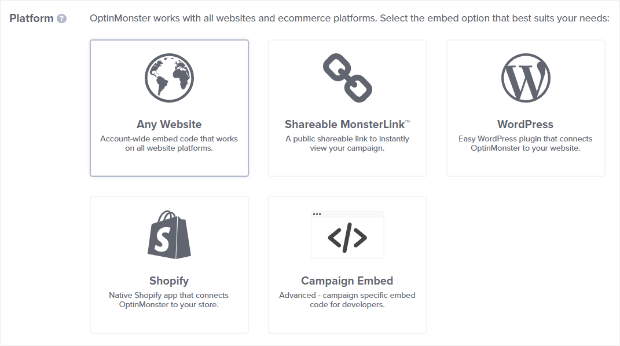 From the Publish tab, just toggle the Status to Live and Save your coupon wheel campaign.

That's it! You've successfully created a Coupon Wheel campaign that's sure to increase engagement and reduce abandoned carts.