Black Friday and Cyber Monday are right at the corner, and I'm sure everyone who has something to sell does want to make sales (and not just on holidays).
But did you know that if you add a countdown timer you will more likely have sales then without?
So if you are interested in boosting your sales make sure you read along, because this post is about how to create a countdown timer popup with OptinMonster.
This post contains an affiliate link and if you use my link for purchase I will get a small commission at no extra cost to you! Thank you for your support!
Pin this for later:
If you are planning to have a sales promotion, you must have add a countdown timer to your blog.
It only takes you 7 steps to create them, one essential tool to make it happen and it will definitely make an impact on your holiday or flash sales even if you just use it for an affiliate product.
First, if you haven't had the chance to get to know more about OptinMonster yet I want to introduce the tool.
What is OptinMonster
The only tool you will need to grow your email list and make more sales with the popups you can make within your OptinMonster account.
I have more posts you might want to read which will be helpful to create other popups with OptinMonster.
How to Boost Your Conversions with Mobile Exit-Intent on OptinMonster
Easy How To: Create Killer Exit Popups for WooCommerce
How To Increase Conversions with Easy Multi-Step Popups
Easy How To: Add An Announcement Bar, Boost Sales
How to Use Email Marketing to Skyrocket Your Sales
And now, let's see how you can start to make those countdown timer popups with OptinMonster.
1. Create your Floating Bar Opt-in
Start with going to your OptinMonster dashboard and create a new opt-in by clicking on the Create Campaign button.

Then select the Floating Bar campaign type.

Next, select the Countdown template by hovering over it and clicking on the blue Use Template button.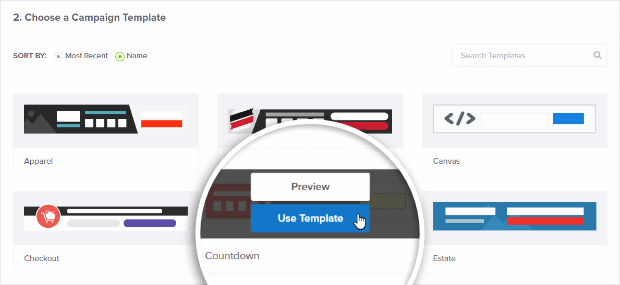 You can simply add a countdown popup to any of OptinMonster's campaign templates.
Now, enter a name for your sales timer and select your blog from the dropdown menu. Click the Start Building button to enter the campaign builder.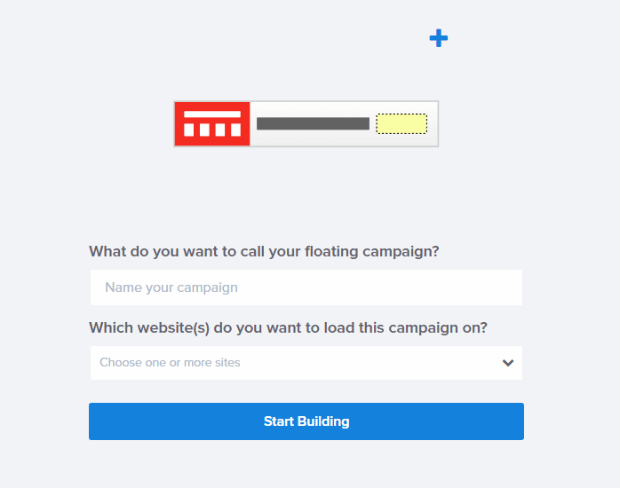 Don't forget to save your campaign frequently. The Save button is in the top right corner of the builder.

2. Updating the Display Settings
The default display settings for the opt-in have it set to show up at the bottom of your blog. You can change that to the top of your blog, by clicking Display Settings and toggle Load Floating Bar at Top of the Page to the On position. It is also optional to remove the Powered By Link just to save some screen space.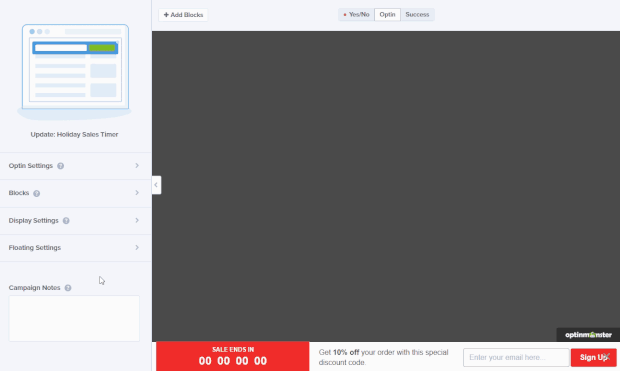 3. Set the End Date/Time
Click on the countdown clock in the live preview to bring up the editing tools to the left. Set the Type to Static so every visitor will see the same countdown when they arrive at your site.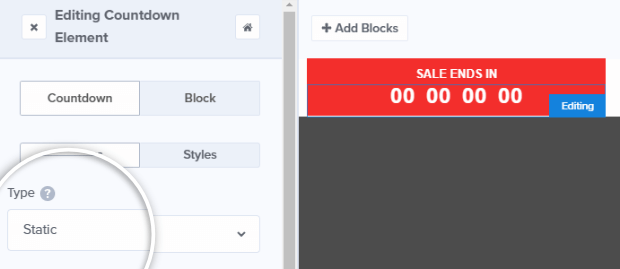 And now, go ahead and enter the date and time settings for when your sale is scheduled to end and how to display the information. All changes are appearing live in the preview as you make them.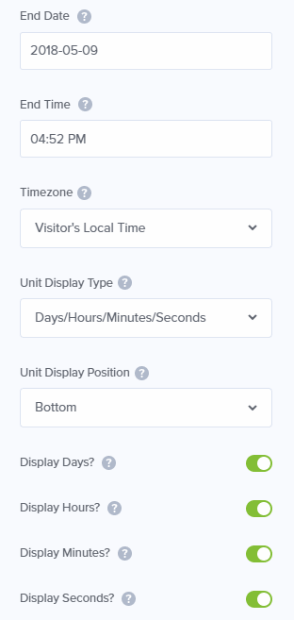 4. Customizing the Copy & Design
Next, you can customize the floating bar to look the way you want, and reflect your offer.
Designing the Countdown Timer Popup
Start by changing the countdown timer section. To do that, we need to edit the column by hovering over the "Sale Ends In" text. Two small, gray icons will appear. Click the one that looks like a gear to edit the settings and styling of the column.

At this point, you can change the column background to match the other backgrounds.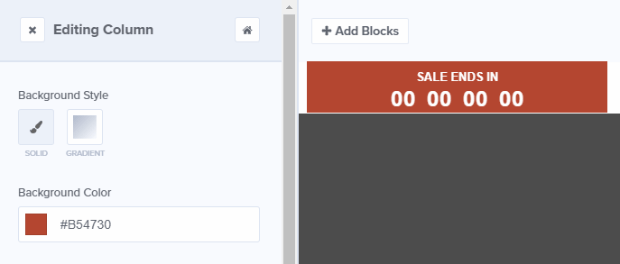 Designing Offer Text
Now, change your offer text. To do that, click on the offer text in the live preview to bring up the editing tools.

If you want to customize your fonts or colors, you can do that too.
Designing the Optin Button
Next, let's make the Sign-Up button color match to countdown timer color and change the Button Text. To do that, click on the button in the live preview to bring up the editing tools and then click on the Button tab to edit the button styling.

Designing the Success View
So now that users can opt-in to get access to the coupon code, you need to set up a success view so you can provide them the coupon code once they've completed their signup.
Click on the Success tab.

5. Connect your Email Service Provider
To collect email addresses, you'll need to connect your opt-in to your email service provider. OptinMonster integrates with all of them.
Go to the Integrations tab.

Click Add New Integration and select YOUR EMAIL PROVIDER from the Email Provider dropdown list.
Now you have only connect the tool to the email provider and choose the list you want users to subscribe to. An click Save.
6. Setting the Display Rules
Once you're done with your countdown popup, it's time to set the display rules.
Go to the Display Rules tab and set your floating bar to be displayed on or before a certain date.

Next, you need to set who should see this campaign.

Now, whenever a visitor lands to https://domain.com/shop page, they will see the countdown popup!
Use the Save button to move on.
7. Publish Your Countdown Popup
Now all that's left to do is publish the campaign! Go to the Publish tab and toggle the Status to Live. Then, Save the campaign.

Click the Go Live button next to the campaign name to make the campaign live on your site.
If you are not using WordPress, you can also have OptinMonster on your Shopify store. See here how you can integrate OptinMonster to Shopify. 
Get started with OptinMonster today to create a countdown timer for those holiday promotions that are coming up fast.