Is Instagram what you are using the most to get followers and traffic to your blog? How about having a smart assistant where you can easily create your Inta feed and grow your followers. Now you can use Tailwind's Smart Assistant.
Are you ready to know how you can improve your Instagram?
In this post, I want to let you know about the new Instagram Visual Planner from Tailwind!
This post contains an affiliate link and if you purchase through my link I will receive a small commission but at no extra cost to you! Thanks for supporting!
Pin this for later:
Before I let you know about all the great features, if you haven't already used Tailwind I recommend signing up and you can try Tailwind for Instagram for free up to 30 scheduled Instagram posts. Make sure you use Instagram Business account because Tailwind works the best with it.
Tailwind for Instagram Features
Tailwind has made newly dashboard to create your new Instagram Smart Assistant so you can have your best Instagram feed ever.
How can Tailwind for Instagram help you?
You can plan your feed visually with an easy drag and drop grid planner
There is a built-in content plan and post inspiration
You can optimize your posts to stand out with the help of SmartSchedule and Hashtag Finder
To boost your traffic you can use an Auto-Updating Bio Link
There are mobile apps available if you want to schedule on-the-go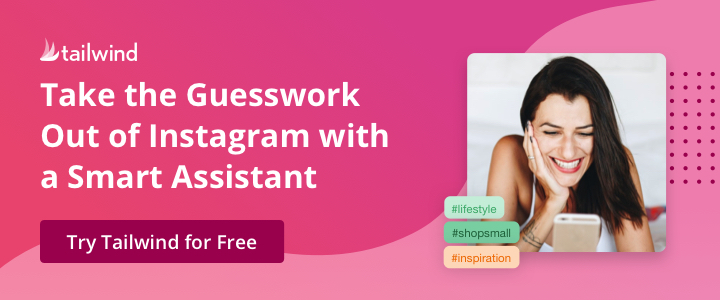 What are the new features?
Content Plans
Sometimes it can happen you don't know what to post, but with the content plans, you can get ready to use post ideas so you will be ready to create in each business type.
Using the 9-grid you will get colored plans which will help you keeping track of what to post and this will result that you can stay consistent.
If you have planned your grid and ready to publish, then Auto-publishing is a great tool to post your images or videos without putting a lot of effort.
Your number 1 visual planner
How about getting a visual planner that makes your feed stand out. Because Instagram is already a visual platform it is simply clear that you need something where you could plan your feed visually.
1. Drag-and-drop scheduling
With the drag-and-drop scheduling, you can make sure that your feed will be always perfect. And it is really simple to use.
Smart Tools from your Smart Instagram Assistant
1. SmartSchedule
SmartSchedule will help you with picking the perfect time to post your content which is based on your audience when there are most engaged with your post so you could get the most out of your post.
2. Hashtag Finder + Hidden
This is so useful when you have no idea which hashtags to use for your post, the Hashtag Finder will show you the best mix of relevant hashtags to get discovered which will result that you are providing your post to the right followers.
Also great when you use the Hidden Hashtag feature because you can automatically publish your hashtags on the first comment, so they don't bother on your caption.
3. Smart.bio
Are you tired of not having the right result and not getting traffic to your blog, because of Instagram only allowing one link in your bio? Now with Smart.bio, this could be over forever, cause you can have multiple links on one page.
Unsplash Integration
Are you looking for professional photos for your Instagram posts without having to make your own? Now you have the opportunity to search for beautiful photos that pop with Tailwinds Unsplash Integration where you will find so much free stock images to schedule it to your Instagram feed.
Plus you get a lot more features if you choose to use Tailwind for Instagram.
Including:
Saved hashtag lists
Tag users and locations
Schedule videos
Schedule stories
Photo cropping
Batch scheduling
Regram Instagram posts
Profile analytics
Post inspector
Summary email reports
Multiple accounts
Invite teammates
Synced mobile and desktop apps
100% Safe to Use. Tailwind is an official Instagram and Pinterest Partner tool.
By now you know why it is worth it to use Tailwind for Instagram and how it will benefit you if you try out. Again don't forget that you can try this powerful schedule free up to 30 posts.