A new year a new chance to uplevel your business. And now you may be wondering what I mean by that.
Well, first by checking the speed of your own site, because let's face it no one wants to visit a site that loads longer than expected.
But it is possible for you to improve it so you can have a website that works properly. This is why this post is about MonsterInsights new feature which allows you to get insights about how you can make your site faster as possible.
This post contains an affiliate link and if you decide to click-through and purchase I will receive a small commission for that but no extra cost to you!
Pin this for later:
But before you get to know more about how you can have more info about speeding your site let me introduce you to MonsterInsights which will also improve your rankings on Google if you use it.
What is MonsterInsights?
MonsterInsights is a plugin that allows you to easily add, customize, and manage the Google Analytics website tracking services on your WordPress site. In a nutshell, it makes tracking your website with Google Analytics simpler and much easier.
You can find out more about MonsterInsights in my previous posts:
How To Set Up Author Tracking On Your WordPress Site by MonsterInsights
How to track file downloads in Google Analytics to Boost Downloads
How to Add Killer Google Analytics in WooCommerce Now
How To See The Keywords People Use To Find Your Website
And there are even more just type MonsterInsights in the search bar.
Now let's see the new feature…
How to improve user experience with Speed Site Report
If you have a site that loads faster the experience of your audience will be more exceptional. This leads to more time on your site and your reader becomes a potential customer.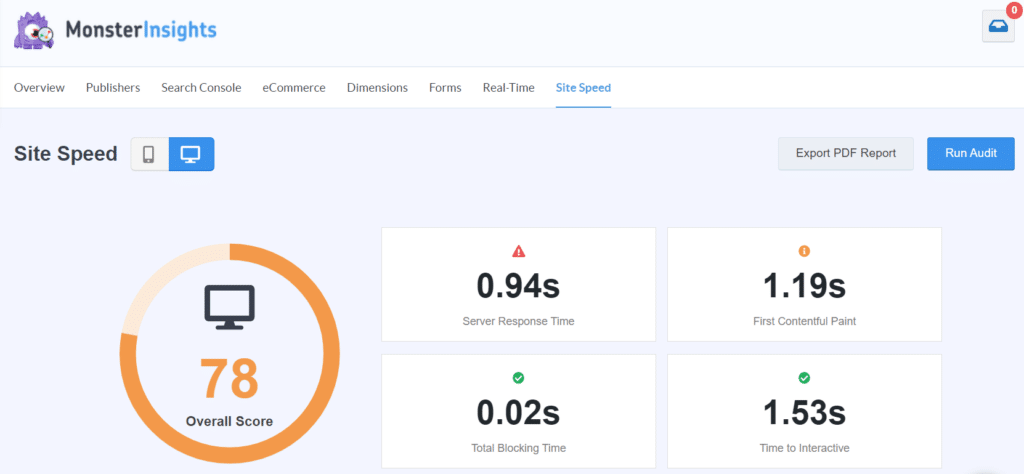 But that's not the only one that will be important also you will be seeing more improvement in your search engine rankings.
Did you know about the ranking factors Google will look up for when it comes to your site? One of them is site speed that part is of the Core Web Vitals.
In nutshell, Google will rank those sites higher that have the best experiences for the visitors. One of the most essential parts is responsiveness, speed, and also how fast your images are loading.
So you need help with measuring your side speed, improve the experience of your visitors and also boost rankings?
That is possible if you use the Site Speed Report!
Using the report, you can undoubtedly quantify how quickly your site loads for your readers. You'll get a general score for your site speed on the desktop and mobile areas.
Other than that, you'll likewise see significant details to improve your visitors experience like:
Server Response Time – is the time it takes for your website server to respond to your request and return data to load the website
First Contentful Paint – shows you the time it takes to stack visual components like text styles and pictures on your site
Time to Interactive – it's the time your page first starts loading to when it's no longer loading and is ready to respond to user interactions, like filling out a form
Complete Blocking Time – measures the time it takes until your readers can communicate with your site
That is not all! MonsterInsights will likewise assist you with improving your site's page load speed.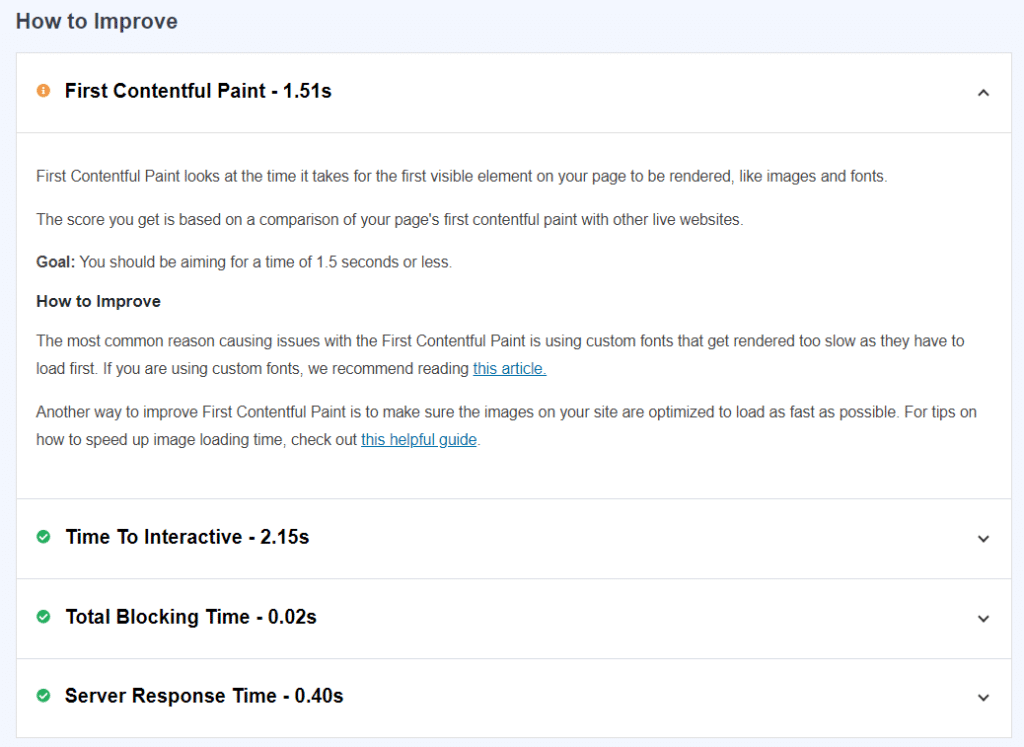 It offers an objective for every metric that you should focus on your site. Furthermore, it gives suggestions to make your site pages load in no time. For example, you can help your server reaction time with a WordPress caching plugin.