Have you ever thought about creating an online course? In this situation, we face right now (yes I'm talking about the pandemic) everyone is online learning something. So why not create a course you can sell-through your membership site?
MemberPress has made the hard work for you so you can create and sell your own online course which you can easily set up without coding. Just use the drag-and-drop function and you are ready-to-go.
In this post, I want you to know more about this plugin and how you could get started right away!
This post contains an affiliate link and if you purchase via my link I will receive a small commission but at no extra cost to you! Thank you for supporting!
Pin this for later:
But before we dive into the main topic of this post I want to introduce you to MemberPress.
WHAT IS MEMBERPRESS?
MemberPress will give you the ability to confidently create, manage, and track membership subscriptions and sell digital products. In addition to these powerful abilities, MemberPress will allow you to grant and revoke access to posts, pages, categories, tags, feeds, communities, and digital files based on what products your users have purchased or subscribed to.
With MemberPress you'll be able to create powerful and compelling WordPress membership sites that leverage all of the tremendous features of WordPress and WordPress plugins including content management, forums, and social communities.
If you want to know more here are some previous posts I wrote before:
MemberPress How-to: Learn to Drip content easily on your membership site
How To create great Zapier integrations in MemberPress
PDF Invoices now on MemberPress!
Easy To Use Content Protection For MemberPress
GETTING STARTED WITH MEMBERPRESS COURSES
If you more like a visual person I recommend to watch this video:
And if you more a reader kind of person follow these instructions
Online course making is no hard work anymore
Now I mentioned before COVID makes people stay-at-home and lots of people are using the online platforms to learn. But online courses were always a great money-making opportunity.
But there is one reason why people are held back from taking advantage of creating them is that they think of the high cost and difficulty of set up.
With potentially thousands of hierarchical pages to organize, tons of content to produce, and complicated coding to tinker with, the whole thing can seem out of reach.
If you will be using MemberPress's course creator you don't have to worry about all these things!
No more complicated coding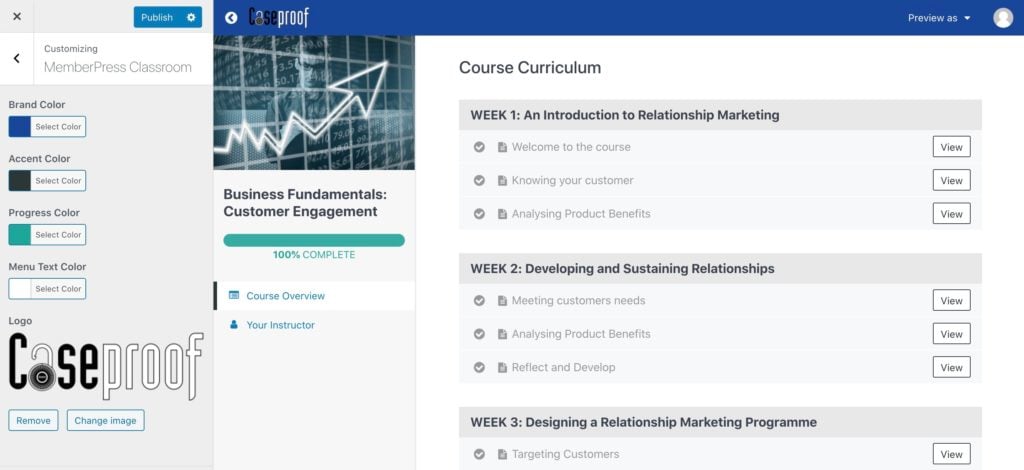 The new add-on makes all that confusing coding a thing of the past. Features like the MemberPress Classroom Mode take care of the look and feel (and are easily customizable via the WordPress Customizer), so you can focus on creating great content.
There's no need for coding knowledge because all the styling is built right in — even awesome features like progress tracking.
In Classroom Mode, the add-on provides its own modern styling for your courses and lessons, allowing you to develop beautiful front end content without ever having to bother with styling.
Courses add powerful WordPress LMS features to MemberPress that do the work for you. You can even see what your front end changes will look like live, right from the WordPress Customizer.
Track your progress
With MemberPress Courses, users can see their progress in each class they've started. Not only that but as a site admin, you'll be able to see how your subscribers are progressing through the curriculum, as well. This information provides valuable insight into the user-friendliness and popularity of your courses.
No more struggle with pages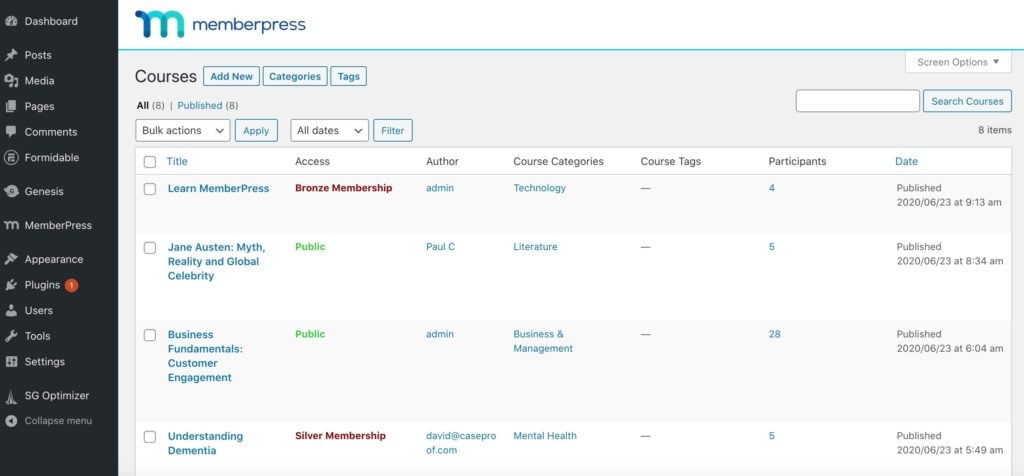 There's no longer a need to decide where your course content will reside in WordPress, to build out pages and subpages, or to set up custom post types.
The Courses Add-on provides a simple menu item in MemberPress where you can access all of your courses. From this menu item, you're able to see all of your curricula in one place, plus add new and edit existing courses.
Building Curriculum Visual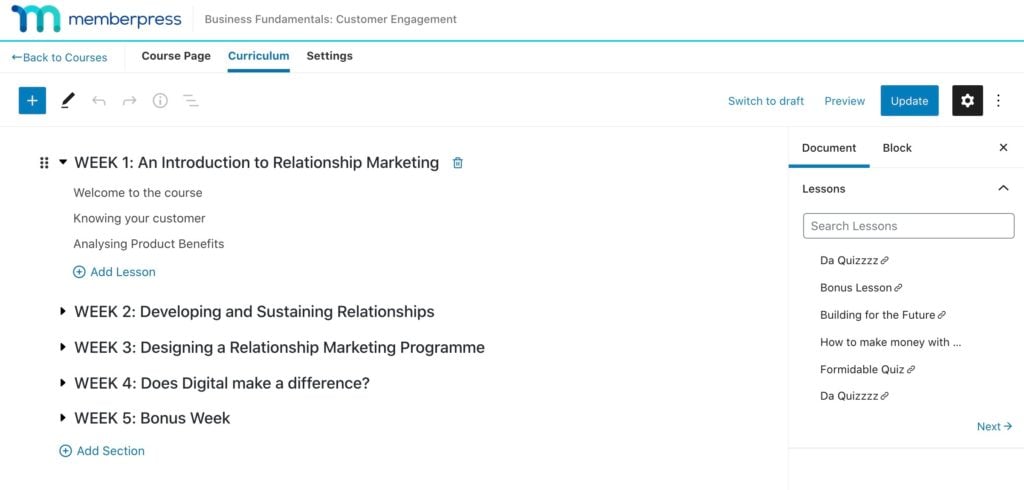 You can now edit all of your online courses and corresponding lessons right in the WordPress Block Editor. Using the Curriculum tab, you can even move lessons around within courses using a simple click and drag feature.
Build subscription with sales feature

When a user encounters a page they don't have access to, you want to make sure they have the option to subscribe. The add-on makes this a piece of cake, enabling you to create a sales page that users encounter whenever they don't have access to a specific course or lesson.
HOW TO INSTALL COURSE ADD-ON
The first thing you'll want to do is install the MemberPress Courses add-on by visiting your MemberPress > Courses page in your WordPress dashboard. If you don't see the MemberPress > Courses menu item, then you may need to update the MemberPress plugin to the latest version.
After installing the add-on it will be activated on your site. You'll be redirected back to the Courses page where you can create your first Course.
CREATE YOUR FIRST COURSE
Here is another video about how you can create your first course with MemberPress
For more in-depth information about the setup of your course make sure you check out this page!
Ready to try it out yourself? This new integration is available to anyone with a MemberPress subscription, including Basic. Download the MemberPress Courses Add-on from the Add-ons page in your MemberPress dashboard menu to get started.