In this post, I will talk about scroll depth tracking by Google Analytics. If you are interested you could read what it is, why to use it and with what tool you can use.
What it scroll depth exactly?
Scroll depth tracking allows you to see how far a user scrolls on any page. This data helps you see if your visitors are reading your long posts and when they lose interest, so you can modify the content to keep them engaged.
This post contains affiliate links and if you use them to purchase I will get a small commission at no extra cost to you! Thank you for your support!
Pin this for later:
Why Track User Scrolling in WordPress?
Generally, scrolling occurs when a user wants to see your content below the preview screen. It is a primary activity that all users perform to look at your content.
This makes scroll depth tracking an important measure to track user engagement. In addition to that, it gives you plenty of insights about user interaction on your site and helps you improve pages for optimal length.
For example, you can find out how much an average user scrolls when viewing your site, which long reads they liked the most, what makes them lose interest, etc.
With these insights, you can then optimize your pages for better user engagement and higher conversions.
Scroll Depth Tracking in WordPress with MonsterInsights
MonsterInsights is the most popular Google Analytics plugin for WordPress with over 2,000,000+ active installs. It helps you easily install and use Google Analytics on your WordPress website without using any code.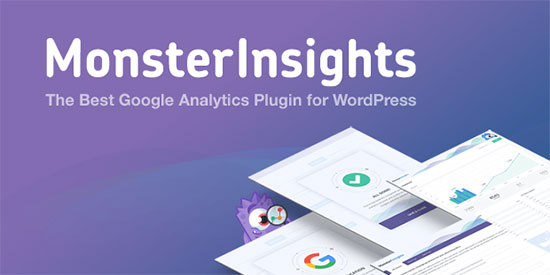 With MonsterInsights, you can enable advanced tracking like eCommerce tracking, file downloads, affiliate links, forms tracking, scroll depth, and more with just a single click (no coding needed).
MonsterInsights comes with scroll-depth tracking enabled by default. This means you don't even need to configure any settings. All you need to do is setup the MonsterInsights plugin.
First, you need to install and activate the MonsterInsights plugin.
Upon activation, go to Insights » Settings page and then click on the Engagement tab. As shown in the screenshot below, you will see the scroll tracking option enabled by default.
MonsterInsights trigger events in Google Analytics as your website visitors scroll down the page. It will then be tracked with Google Analytics as 25%, 50%, 75%, and 100% scroll.
You can see your scroll tracking stats and other helpful stats right inside your WordPress admin area by going to the MonsterInsights Publishers Report (Insights » Reports » Publishers). The scroll depth data appears next to the Interests section.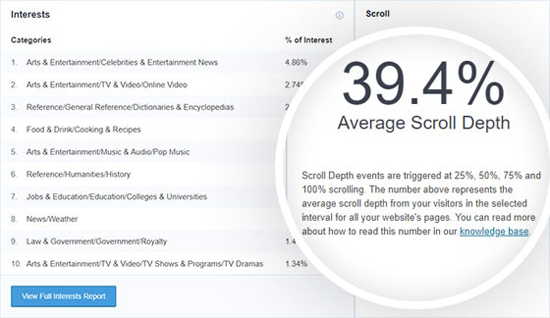 You can use the scroll depth data to optimize your pages for more conversions. It gives you a better picture of how your visitors are interacting with your content and helps you decide the best place for your important calls to action, ads, and more.
View User Scrolling Data in Google Analytics
Now that you have set up scroll tracking with MonsterInsights, you can view reports also in your Google Analytics account.
Log into your Analytics account and then visit Real-Time » Events to see your real-time or recent scrolling data within the last 30 minutes.
For the complete data, you can go to Behavior » Events » Overview from your Analytics dashboard.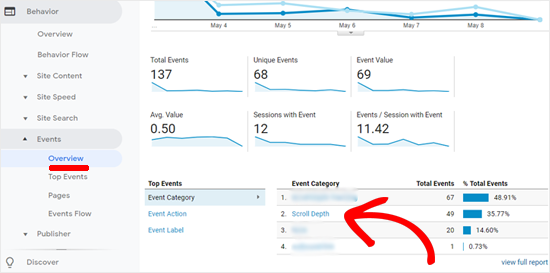 You can click on the Scroll Depth link to get more details.
If you want more granular details, then you can use Google Analytics' secondary dimension feature alongside the Scroll Depth event to see the scroll data for each landing page.
I use MonsterInsights on all my blogs because it's the most complete Google Analytics plugin for WordPress, and I recommend it to you to do the same.