One of my favorite tools online when it comes to design my graphics is Canva. But there are so many sites out there where you can design your Pinterest template, Blogging images or other Social Media graphics.
In this post, I would like to show you them so you can try it out! Most of them free or you can try them out in a trial.
This post contains affiliate links and if you use my link for purchasing I will receive a small commission for it but at no extra cost to you. Thank you for supporting!
Pin this for later:
What are the benefits of design tools online?
It is really easy to use, some of the graphics are already premade you just have to put your text and image onto. There are also tools which you can use on your phone via an app.
It will save you a lot of time and you don't have to download anything on your pc or laptop. And also you don't have to be a professional graphics designer to use these tools and make your own designs.
Now here are sites I think you must try at least once besides Canva. But because I really love Canva I wanted to write about them too!
1. Canva
I know that most of the blogging community know about Canva and love to use it for designing their graphics, but do you really know about the benefits of Canva Pro as well?
Canva for work or Canva Pro (whatever you like to call) is the premium plan that comes with additional features. It can be used by teachers, businesses and marketers, students, designers, photographers, and nonprofits. No matter where you're coming from, Canva for work is sure to surprise you.
You can choose from a massive collection of designs including social media, presentation, flyer, poster, card, blog banner, presentation graphic, letterhead, magazine cover, certificate, resume, book cover, wallpaper, CD cover, brochure, postcard, and many others.
With Canva Pro you can have:
Unlimited folders for your designs
Team functionalities
Unlimited storage for photos and assets
Upload your own images
Access millions of photos starting at $1 each
Exclusive access to 400,000 free photos, illustrations, and templates
Magically resize your designs
Upload custom fonts for your brand
Set color palettes for your brand
Save templates for you and your team
Organize your photos with folders
Easily find your designs with search
Resize designs into custom dimensions
Download designs with transparent background
Export designs as animated GIFs
Priority support
Brand Kit management
Magic Resize
Design and Photo folders
Download designs with transparent backgrounds
Canva Animator
Free content exclusive to subscribers
The key features include:
Centralize brand colors, logos, and fonts. Keep your brand guidelines up-to-date and in one place. Enable your entire team to access and use your colors, logos, and fonts in their own designs.
Save branded templates. Create templates for everything from social media graphics to presentations. This ensures consistency and empowers your social media, marketing, and sales teams to create their own on-brand graphics.
Logos are a snap to find now that they have a home in your left sidebar. You click the logo icon, and your pre-loaded logos appear. You can then drag and drop it into your design.
Magically resize designs. Quickly resize a design into all the formats you need. Create a design once, and optimize it for different social media channels, or campaign collateral. Resize is only available for Canva Pro accounts and can only be accessed on desktop browsers.
Organize images and assets into folders. Centralize images and assets for your team. Employees will never get stuck searching for the right logo again.
Invite your team to collaborate. Canva Pro is perfect for organizations of all sizes, whether it's one person or a team of hundreds. It provides an internal commenting and collaboration system to improve workflow.
And all these only for $12.95/month or $9.95/month if you go for a yearly plan, this is really affordable for such great features. And by the way, Canva has also an Android and iPhone app so you can create your designs on the go.
And now going to the alternatives of Canva you can try.
2. BeFunky
BeFunky is an all-in-one online Creative Platform which has everything you need to easily edit photos, create graphic designs, and make photo collages.
BeFunky Features
Unique collage layouts are available through BeFunky, like for a Facebook cover, big photo wrap, Pinterest, and more
Images can be imported from your computer, Facebook profile, or BeFunky account
Any image from the collage, as well as the entire collage as a whole, can be edited using BeFunky's online image editor (advanced editing isn't free)
Layering is supported, which makes it much easier to work with multiple photos
The whole collage can be resized to any custom height and width by dragging its corners to a new size
It is also available through a free mobile photo editing app
Text can be added to a collage and you can use BeFunky's fonts or the ones from your computer
A collage's background can be any color, left transparent, and adjusted so there's spacing between images and round corners on all the pictures
Hundreds of free images are available that you can use in the collage
Using the Autofill feature will automatically take all your images and apply them to the collage to save loads of time dragging and dropping all your pictures around.
A list of historical changes you've made to the canvas is saved to make undoing edits easy
When done editing, you can save your collage to your computer, BeFunky account, Google Drive, or Dropbox, as well as share it over Facebook, Twitter, or Pinterest.
The features that aren't free are clearly marked with a star.
Pricing
Crello has four pricing levels – Forever Free, Advanced, Pro and Team.
Forever Free gives you access to the features above for creating static images, flyers, posters, business cards etc – including free templates, photo editor and fonts. You can create limited animated images in that you are restricted to 1080 x 1080 animated posts from the template selection (you can't resize or add animated objects) and includes the Created in Crello branding on download.
Advanced is $7.99/month and $79.99/year and lets you download all design formats and access all 20,000 templates and graphics, you can upload 5 images to use in illustrations in designs and one custom font, and access to 5 stock images per month. Videos created on this plan include a watermark.
Pro is Crello's best option at $19.99/month, so it's more expensive than most of the tools listed here including Easil ($7.50 per month) and Canva ($12.95/month). With a Pro account, you also get all the features of the Animation Maker including full access to all animated formats (Animated Posts, FB Video cover and Full HD Video), unlimited commercial usage on all animations (no watermarks or Crello branding) and thousands of free animated objects. With their collection of animations and video backgrounds, you have plenty of scope for creativity or just use templates. You can also resize your animation designs and upload your own videos or images.
Team has all the features listed above but with the benefit of having + 3 team members with you to make designs. It is still in beta so right now you only can purchase it in the yearly plan for $239.99/year until September 25th.
On both plans, you can also purchase additional design elements like illustrations and stock photos for a low price of $0.99. All purchased design elements are sold under a multiple-use license (ie "pay once, design forever"). So, when you buy any element, you can use it again as many times as you need.
4. Stencil
Stencil is a graphic design tool that is all about creating social media images easily and quickly (as well as ad images, marketing images, and email images). It's designed to be a tool that you can access quickly in your browser to produce a quick image and post it.

One of the features I do like about Stencil is their huge library of quotes that you can use to quickly import into your image and create fresh content. I have used these many times before when trying to plan what to post for images. The quote section has a great search function too so you can search by the person saying the quote or by quote keyword or phrase.
Stencil's template selection is much smaller than other tools on this list, but for quick, easy posts, it's a basic selection to get you started.
I also love that you can access so many fonts with their Google Web Font integration and it has a solid selection of images/photos and design icons.  So, if you wanted to go beyond creating a quick image, you could get more creative.
Key Features:
Stock photos – Stencil has 1.5 million stock photos (Royalty Free, CCO)
Template designs – use 650+ Templates to create images quickly and easily.
Huge library over icons and Graphics – over 1 million of them!
Large range of custom social media sizes – Stencil has 41 custom sizes including social media sizes, ready to go.
Massive Quote Library – Stencil has 100,000 quotes you can use to instantly create quote images. Use the chrome extension to add quotes straight from the web, into a Stencil canvas to create images.
2,300 Google Web Fonts – never run out of font inspiration or upload your own.
Share images to Social Platforms – create, preview and share images to a range of social platforms including Facebook, Twitter, Instagram, Pinterest, Buffer and Bitly.
Pricing:
Stencil starts with a Free Plan where you can create 10 images per month (with access to limited photos and icons). You can then upgrade to:
Pro Plan – for $15/month or $9/month if you choose for a yearly plan and get access to all the features to create 50 images per month (including font uploads, access to photos and graphics, logo/watermarks, keep up to 100 favorites, 650+ templates, and premium support.
Unlimited Plan – for $20/month or $12/month when choosing a yearly plan for everything in the Pro Plan plus unlimited images and favorites.
5. Easil
Easil is the Drag-and-Drop Design tool that helps you create Visual Content so good it looks like a Pro designed it.
Easil stood out to me initially because of the sheer quality of the templates. I started to use it more and more, and it's been my second go-to visual design tool after Canva for well over a year now.
Easil recently changed the game for DIY Design Tools with their new team features including brand locking and brand kit. You can design at a basic level or take it up a notch and use designer-level features like Layers, Design Merge (merging elements of different designs) and Text Effects. So much so that many designers love designing in Easil but it's awesome for non-designers as it's so easy to get started.
Easil is always creating new templates and keeping ahead of social media trends – for instance, they have a huge selection of Instagram Story templates. Match this up with the sheer professional quality of the templates.
Key Features:
Easil has a lot of game-changing features, including Teams, Brand Kits, and Brand Locking. Check them out:
Brand Kit (upload your logo, fonts, colors, and even images!)
Brand Locking – Lock your brand with Brand Locking and Brand Permissions. Create templates for your entire team and be sure they won't mess them up!
Teams – add team members to access your team assets and control how they can access, edit, share and create team assets.
High Quality, Professional, Editable Templates – designed by professional designers so they are commercially ready and don't give you that "cookie-cutter" feeling that you've seen them all before. Easil has no particular style so the templates are always edgy.
Templates are All-Inclusive – All templates are inclusive so even if you're on a free subscription and you access a template, you don't pay extra for hidden elements. If the image or icon is in the template, it's included.
Unique Editing Tools – It has a whole bunch of features that I can't find elsewhere like:

Text Effects Tools – including neon/glow effect, drop shadow and text masking (adding images to text or shapes)
Color Palette Generator – pulls in a selection of colors from your image to use in your design.
Tables – you can use the Tables feature to create and write ebooks or create menus. So handy for laying out text!
Transparent PNG – create designs with transparent backgrounds in just one click.
 Advanced Design Tools – including the ability to work in layers, group elements and merge design elements from other templates.
Folders and Favourites – you can store your designs in folders as well as logos, illustrations, images, and assets.
GIF Maker – you can animate images, photos, text, icons and more for really unique GIF animations. Unlike Canva's GIFs where you can only really animate text or elements in a few set ways, you can get creative with Easil using photos, text, icons, and text effects.
EasilStock – This is Easil's exclusive series of stock images – included at no extra charge on 'Plus' and 'Edge' subscriptions. They are a breath of fresh air when it comes to stock images, perfect for industry or entrepreneurial content. And they add new ones all the time!
Great Support

 – Easil's graphic designers actually jump in on support when necessary, which is super useful when you are not a designer… to help you learn how to DIY effectively.
I also love that Easil is intuitive in that you just have to click on your image or text and the exact tool kit or "Action Bar" you need pops up in the dashboard area.
Pricing:
Easil has a Free Plan, and two paid plan Easil Plus and Easil Edge.
Free Plan – this gives you access to their Free range of Editable Templates, Stock Images and Graphic Elements as well as basic Text effects like Drop Shadow and Glow.  You can also work in layers and groups and upload your own images.
Plus Plan – is $7.50/month. This gives you access to all of the features on the Free Plan as well as well as 5000+ more All-inclusive Templates, Transparent PNG images, animated GIFs, High-res PDF download, Design Merge, Store Designs in Folders and Brand Elements in Favorites, Resizing Tool, Text Masking, Uploading Your Own Fonts and Unlimited Free use of 1500+ Free EasilStock Images.
Edge Plan – is $59/month and includes everything in Plus as well as 10,000 Industry and Event specific templates + Priority Support.
Every plan on Easil gives you access to free stock images as well as a huge library of cost-effective pay-per-use stock images.  
6. Snappa
Snappa claims to make design snappy, not clunky.  It has all the usual suspect features like a graphic editor and resizing ability for graphics.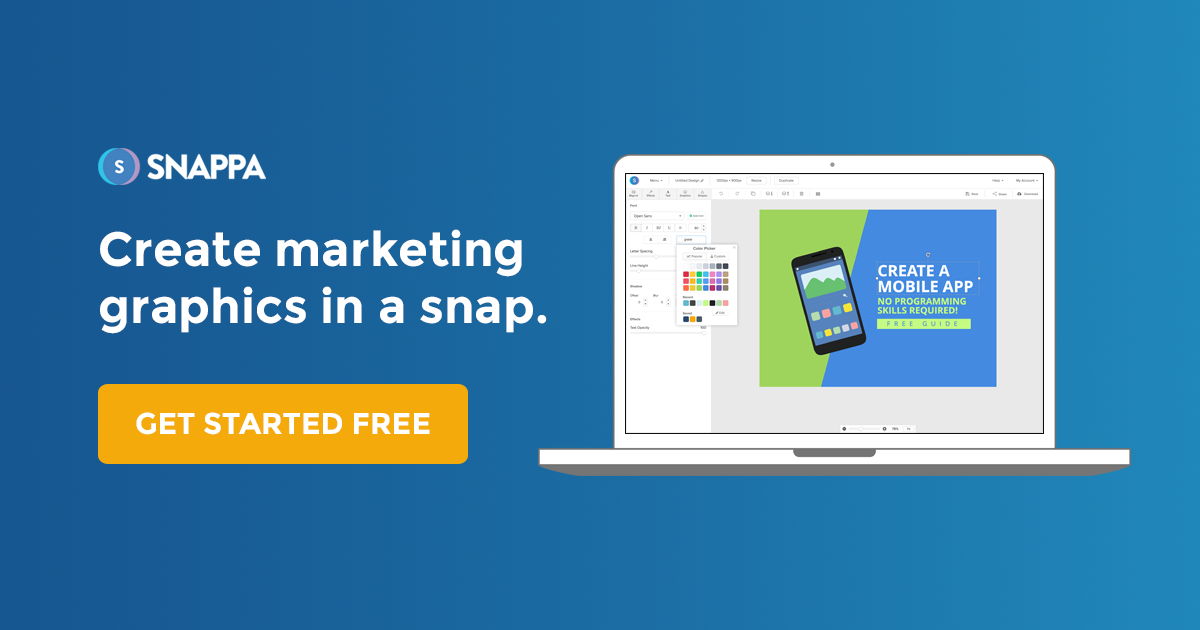 Key Features
Graphic Editor – Snappa's graphic editor is drag-and-drop like most of these tools and has a range of features to allow you to add text, effects, graphics, shapes, adjust line-height and spacing and effects like opacity.
Visual Asset Library – You can choose from 500,000+ photos, 70,000+ graphics and 200+ fonts.  All photos are royalty-free and licensed for commercial use.
Templates – Snappa has hundreds of pre-made templates in a range of sizes and niches.  Out of the tools here I think Snappa's templates are probably the closest in style to Canva's. They have a DIY feel to them and aren't probably as professional as some of the other templates like Easil's pro-quality templates or Crello's illustration images. But if you get creative with fonts and you have some design skills you can create something custom.
Resize Tool – like most of the other tools, Snappa also allows you to resize your images in just a couple of clicks. And like most other tools you usually have to do a little tweaking to make sure text, photos, and icons are positioned properly as it renders into the new size.
Own Photo Upload – like with other tools, you can upload your own graphics and photos into Snappa.
Save and Organize into Folders – You can save custom designs into folders for later reference and editing.
Import Custom Fonts – If you need more than the 200+ fonts included in Snappa you can upload your own fonts.
Share images to Social Media – this is one benefit of Snappa – you can share your images to Social Media. I use Smarterqueue and Tailwind to schedule most of my social media images, so I don't usually use a visual content tool to schedule my images. But if you were creating an image on the fly, this could be handy.
Team Collaboration – similar to Canva and Crello, you can share designs, folders and other brand assets between team members.
Note some of these features are available on the paid plan only – see below. 
Pricing:
Snappa has 3 levels of membership – Free, Pro and Team.
Free is for a single user with access to all photos and graphics, 5 downloads per month and a limited number of templates for only 2 social accounts.
Pro is $19/month or $10/month for a yearly plan also for 1 user but you get unlimited downloads, access to templates, and social media accounts.  You can also save designs in folders and upload custom fonts.
Team is for 5 users which you can have for $39/month or $20/month for a yearly plan. You get all the features of the other plans as well as Team Collaboration, which means you can share designs, folders, fonts and brand assets with your team.
7. PicMonkey
I don't why I included PicMonkey at the bottom of this post, cause this is the second most used online graphics designer used by bloggers and business owners. But maybe because not only the first ones could be as good as the last ones.

PicMonkey was the first online image editor I've been using for many years before I find Canva and learned how to use it. But now PicMonkey grew up and made more features so it is not only a photo editor anymore. You can easily make your social images and you can also design your Pinterest templates.
Key Features
Basic and Advanced Photo editing tools – Cropping tool, exposure sliders, color tools for brightening/correcting/auto-correcting color, sharpen tool, rotate tool and resize tool for social media, print, and web. Picmonkey also does transparent PNG which is handy.
Photo Effects and Filters – Tried and true photo effect filters, Basic photo effects like softening/frosted edges, Black and White effects, Vintage camera effects, Paintbox color effects, Light effects, Artsy photo effects. You can also use Layers to erase or mix and mingle effects.
Add Text to Photos – it's easy to use Picmonkey's text tool to add text, graphics and textures to your images. One feature they have that you don't see in many other tools is circular-shaped text (awesome!).
Touch Up effects – change eye color, facial features, whiten teeth or remove blemishes on photos.
Collage Maker – a range of flexible customizable grid layouts/collage layouts for photos (in different combinations that you can easily edit or add text).
Graphics – This was always one of my favorite things about Picmonkey. They have a huge selection of graphics, vectors, icons, and effects that allow you to create custom images… literally thousands of free vector illustrations, labels, seasonal graphics and icons (it's a great place to come for Christmas or Halloween). You can scale all the images easily or layer them to create something cool.
Templates – This is a newer feature for Picmonkey. They now have a basic collection of design templates for different social media and design projects.
Pricing:
Picmonkey has a free trial where you can take it for a spin for 7 days. You can only try out the Pro Plan.
After that, you can upgrade to the Basic Plan for $7.99/month or you can choose to pay $72 and be billed each year. This unlocks the entire Picmonkey workflow, so you can create images with effects, editing tools, templates, graphics, touch up tools, textures, frames, fonts and store images in the Hub.
The Pro Plan gives you the most Picmonkey features with everything included in the Basic Plan plus unlimited Hub Storage for your designs and PDF export. This plan is $12.99/month or billed on an annual basis for $120/year.
You could also use PicMonkey on your phone!
8. Fotor
Fotor is both an online photo editor and collage maker as well as a proper desktop application for photo editing with RAW conversion support. There are multiple versions of Fotor. You could opt for one of the online versions, or choose to download a copy of the desktop version and install on your computer for offline photo editing.
Key features:
Basic edit adjustment
Basic photo effects
Advanced editing features – Professional editing features for perfect editing
100+ exclusive photo effects – Hundreds of artistically designed photographic effect
Unique and updated Edit content – 

50+ stylish photo frames
10000+ custom stickers
Artistically designed backgrounds and textures
1000+ exquisite collage templates
Pricing:
There is only one plan Fotor Pro but at two different platforms which is Fotor Online or Fotor for Windows. Fotor Pro is for $39.99/ year or $8.99/month.
9. Visme
Visme is everything you need to tell powerful visual stories in the form of engaging presentations, infographics, and other visual content.
Key Features
You can store up to 3 projects in your account at any given time
Storage provided to your account is 100 MB
Limited access to Visme's premium assets and templates
Access to millions of high-quality stock images
You can only download your projects in JPG format
Pricing:
There are 3 plans Basic, Standard and Complete for Individuals. But you can also choose Visme for Business or Education for Teachers.
Individuals Plan
Standard Plan – $19/month or $14/month for the yearly plan which includes
Up to 15 Projects
250 MB Storage
All PremiumAssets & Templates
No Visme Brand on Projects
Download as PDF
All Charts & Widgets
Create color palettes
Complete Plan – $39/month or $25/month for the yearly plan which includes
Everything in Standard plus
Unlimited Projects
10 GB Storage
Download as HTML5
Slide Library
Privacy Controls
Collect and Store Leads
Organize with Folders
Record Audio
Visme for Business
Single Plan – $39/month or $25/month for a yearly plan includes everything as in standard
Team Plan – $117/month or $75/month for a yearly plan
10. Desygner
Desygner was the first designer tool I used when neither Canva or PicMonkey was available on phones. You can also use it online on your laptop and create all your social media and Pinterest graphics or everything you need to.
Key Features:
Thousands of Ready-Made Templates
Thousands of Free To Use Vector Art, Stickers, and Backgrounds
Millions of Free To Use Images
Online Banner Maker
Web Banners
Blog Headers
Create Unique Marketing Materials
Visually Engaging Social Media Images and Posts
Social Media Photo Sizes
Web Ads and Banner Ads
Google Ad Sizes
Documents and Presentations
Invitation and Cards
Explore Desygner Community
Share Designs via Email or Private Links
Embed Design to any Website
Download Print-Ready Design File
Edit Design from a Computer, Tablet or Phone
Pricing:
You can use it Free Forever or choose to get more features to upgrade to their Premium Plan which is only for $9.99/month.
The Free Forever plan includes:
Create & Store Designs (unlimited)

1000s of Templates

Millions of Free Images & Graphics

Magically Resize Designs

Export with Transparent Background

Rollback Edits with Revision History
Premium Plan includes:
All That's in Free Forever +

10,000+ Extra Templates

Use Your Own Fonts

Set up a Brand Kit with Colours & Logos

Store Images, Icons & Text Blocks

Import & Edit PDFs
Now, these were my suggestions to look out for and to let you know you have more online tools you can use for your social media and blog graphics.
Which are you planning to try out? Did you know about one of them or all?