You probably set your resolutions in your personal life, but do you set them for your business? It will help you every year to make your business better and grow it more.
You will likely set goals for each week and month but when you just start out you need to begin with something.
In this post, I will walk you through some of the top resolutions, to begin with.
This post contains an affiliate link and if you decide to click-through and purchase I will receive a small commission for that but at no extra cost to you!
Pin this for later:
1. Start a Blog for Your Business
If you just starting out then creating a site or blog for your business is the best way to grow it. There are so many benefits such as building your brand, helping your visitors out with your valuable content which will likely attract more readers and customers.
By getting more visitors every day you must be working on SEO to increase your traffic. If you have a good SEO strategy then your posts will be ranking higher on Google or Bing and this is also a great way to be seen by millions of people who are interested in your content.
Don't wait to create your blog if you want to find your target audience.
2. Optimizing Your Blog for Search Engines
As I mentioned before it is really important to work on your SEO. Organic traffic is the key to drive more traffic to your blog.
Focusing on SEO is how you can increase your visibility and rank for different keywords on search engines. And of course, this leads to more clicks and traffic.
So, the first thing to do is finding out which search terms your site is already ranking on. And if you've got a WordPress site, then using MonsterInsights, you can easily view your top 50 Google search terms inside your admin area along with their click-through rate (CTR) and average position.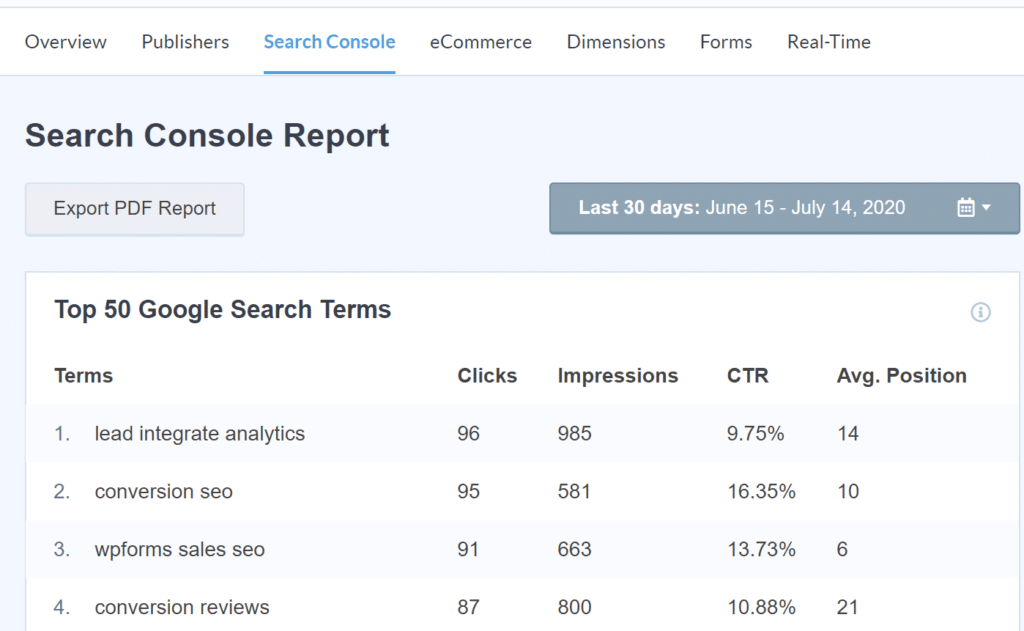 For getting to know more about keywords find out more in this post: How To See The Keywords People Use To Find Your Website
3. Start Building Your Email List
If you follow other business owners they will keep saying money comes from your list.
And it is true!
But what I always tell those who begin with this whole business journey that you don't have to wait to start building your email list because it will start to grow from day 1 if you know how to begin.
Emails are the best to send out targeted messages, promotions and inform your subscribers about your upcoming launch and blog post.
The first thing to do is find the best email service where you can send those messages. And next is up to you what to offer your audience for free to get subscribers.
If you want some help you need a tool that will help you grow your email list like OptinMonster. It's the best lead generation and conversion optimization tool in the market.
Plus, OptinMonster offers exit-intent technology. You can convert your abandoning visitors into leads by showing a popup as they're about to leave your website.
4. Uplevel Your Social Media
This is something you don't want to pass by and start to use and build right away. Because you might find your target audience even faster if you know how to use social media.
It is a great place to engage with your audience and also building brand awareness, generate leads, market your content or products and create your community.
There are many ways to increase your following:
Giveaways
Share other peoples content
Comment on other peoples comment
Use hashtags where appropriate
Make your content shareable
5. Focus More On Your Competitors
You don't have to be ashamed if you keep an eye on your competitors, because this way you will learn more and can also grow. But never compare yourself to others, you are unique and there are people who are interested in your work.
If you just start out make sure you follow them on social media, subscribe to their email list, or use a tool like SEMrush to uncover top organic and paid keywords, traffic sources, high traffic pages, backlinks, and much more.
6. Make Data-Driven Decisions
Another business new year resolution you can make is setting up Google Analytics on your website to better understand your visitors.
It provides valuable data for decision making and you no longer have to rely on your best guess to find out which strategies are working.
MonsterInsights helps you connect Google Analytics without editing code. It's the best Google Analytics plugin for WordPress that lets you view reports inside your dashboard and offers lots of features.
You get events tracking right out of the box, such as file download tracking, affiliate link clicks, outbound link tracking, and more.
MonsterInsights also offers advanced features like eCommerce tracking, form tracking, custom dimensions, and lots more through its powerful addons.
7. Improve Page Load Speed
Having a site and make it appealing is great but one of the most crucial tasks is to be able to serve your visitors. And by doing this is to improve the loading speed of your page.
There is nothing more stressful when someone wants to read your content but can't because your site loads slowly.
People will exit your website since it takes a long time to load. As a result, you'll have a high bounce rate and search engines will think that your page isn't useful and drop your rankings.
In WordPress, you can easily check the load times through MonsterInsights. Using its Site Speed report, you get an overall score for mobile and desktop. The report also shows important metrics to measure page speed and provides recommendations on how to speed up your website.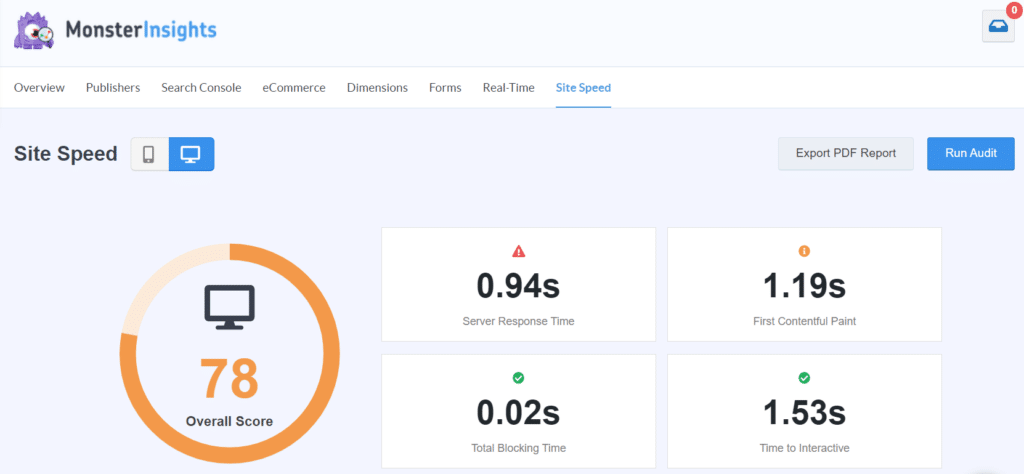 Now, this was a little help to make your decisions and put them into work for now! But also make sure that you don't forget to look at your performance of each year so you can improve it in each new year and begin to set your goals.
MonsterInsights has a Year in Review report which you can use to breakdown monthly when your traffic was low and helps you to attract more visitors. It helps also with increasing your e-commerce revenue!