Sometimes we need something that will help us automate our work so we could focus on other things.
In this case, Zapier allows you to connect WPForms with other popular applications to make your work easier.
So in this post, you will learn how to install and what you can do with the Zapier addon and WPForms.
This post contains an affiliate link and if you decide to click-through and purchase I will receive a small commission at no extra cost to you!
Pin this for later:
Of course, first, you have to know more about the best plugin you can use to create your forms before you get to know how you can use the power of Zapier.
What is WPForms?
Is the best drag-and-drop online form builder for your WordPress site that allows you to create contact forms, email subscribers forms, billing, online order, donation forms, and more.
Use the most user-friendly plugin you can find online today!
Why should you use Zapier addon for WPFroms?
The main reason as I mentioned before is that it will make your work simply and saves time for you when it comes to work with other apps. And also it will saves you money as well!
And after you connect the apps to your forms these are the few data you can send:
Create a Lead in Salesforce
Create invoices on FreshBooks
Create a contact in HubSpot
Send text messages using Twilio
Add a Google Contact
Make a task in Trello or Asana
Add a customer in QuickBooks
Get a Slack Notification
And much more…
Simply choose the trigger (New Form Entry) and then select an action (what do you want to do when a form submits). That's all.
No need to create any custom forms. WPForms makes it really easy for you to customize the form, add and remove fields with a simple point and click.
How to Install the Zapier Addon
Of course, first you need to install and activate WPForms if you didn't have it yet! Then you have to get the Zapier addon.
Once the Zapier addon is activated, go to WPForms » Settings and then click on the Integrations tab.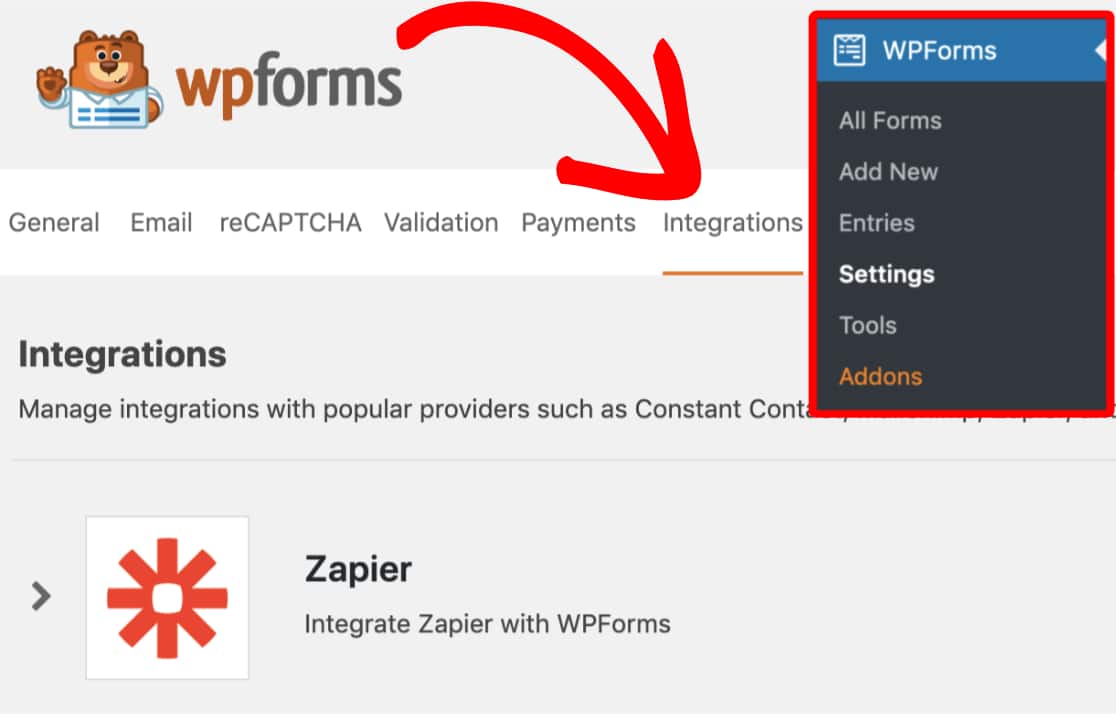 After that, you'll see a Zapier option. Go and click it to open more details. This is where you'll find the Zapier API key for your site.

2) Create a Zap in Zapier
In Zapier, the integrations you create are called "zaps". Up next is to create a zap that sends information from your forms to another service.
First, make sure you log into your Zapier account. But if you don't have an account yet, then you can sign up and create an account for free.
Some integrations will require a paid account with Zapier.
After you've logged into your account, you'll need to click the + button in the upper left corner.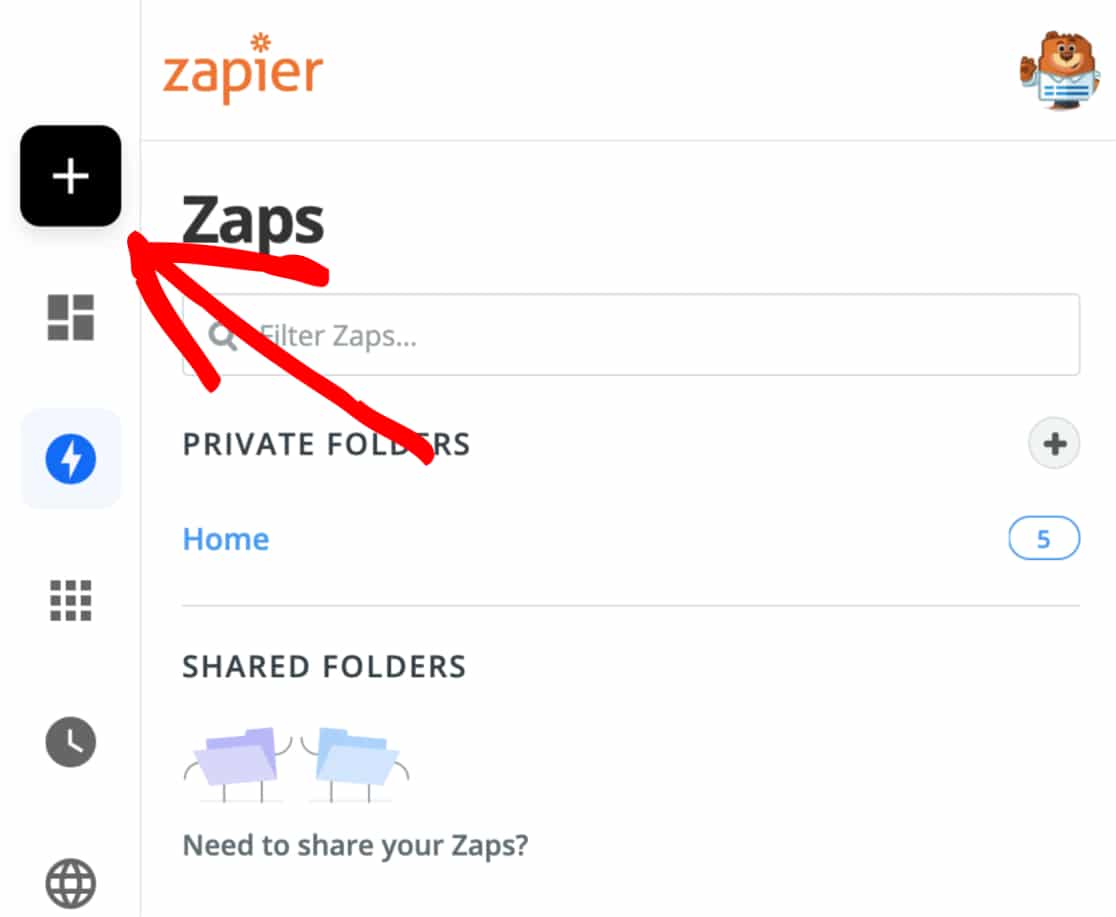 This will open the setup page for your new zap. You can also name your zap, add a name in the upper left corner of the page.
Next, select WPForms as your first app. Within the Choose App & Event search box, type WPForms. Then click WPForms from the results that appear.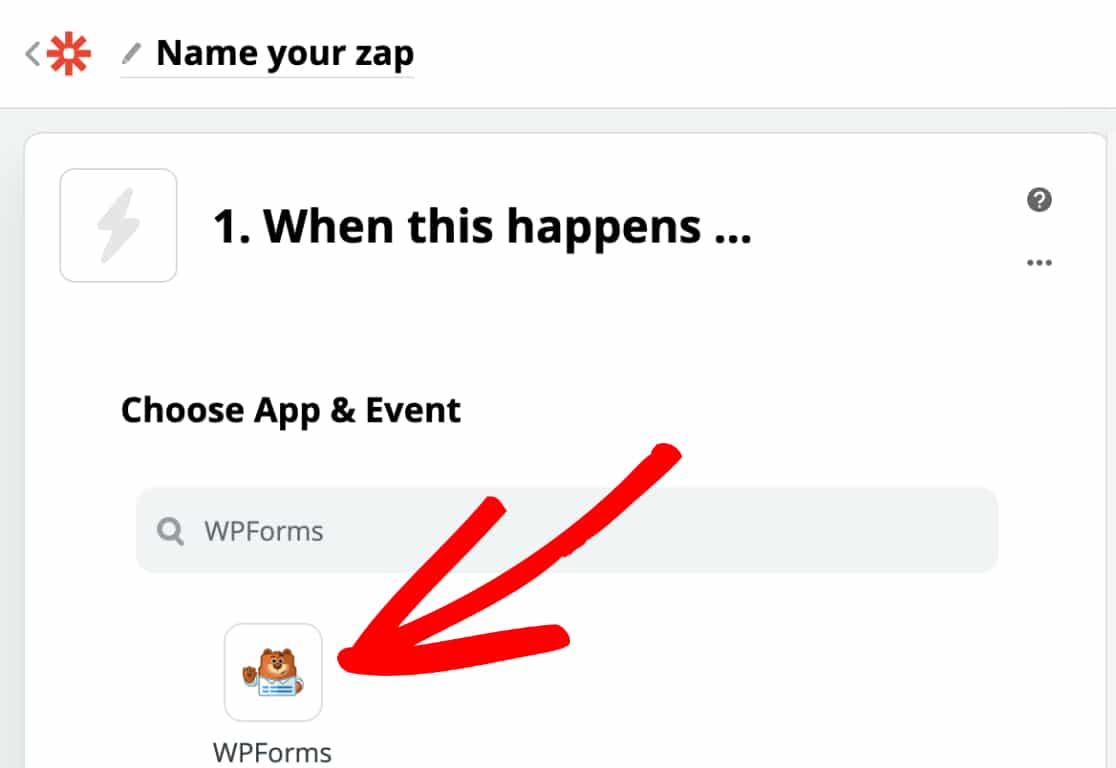 If you've selected WPForms, Zapier will display your trigger options under Choose Trigger Event. WPForms has only one trigger option (New Form Entry), so you can simply click the Continue button to proceed.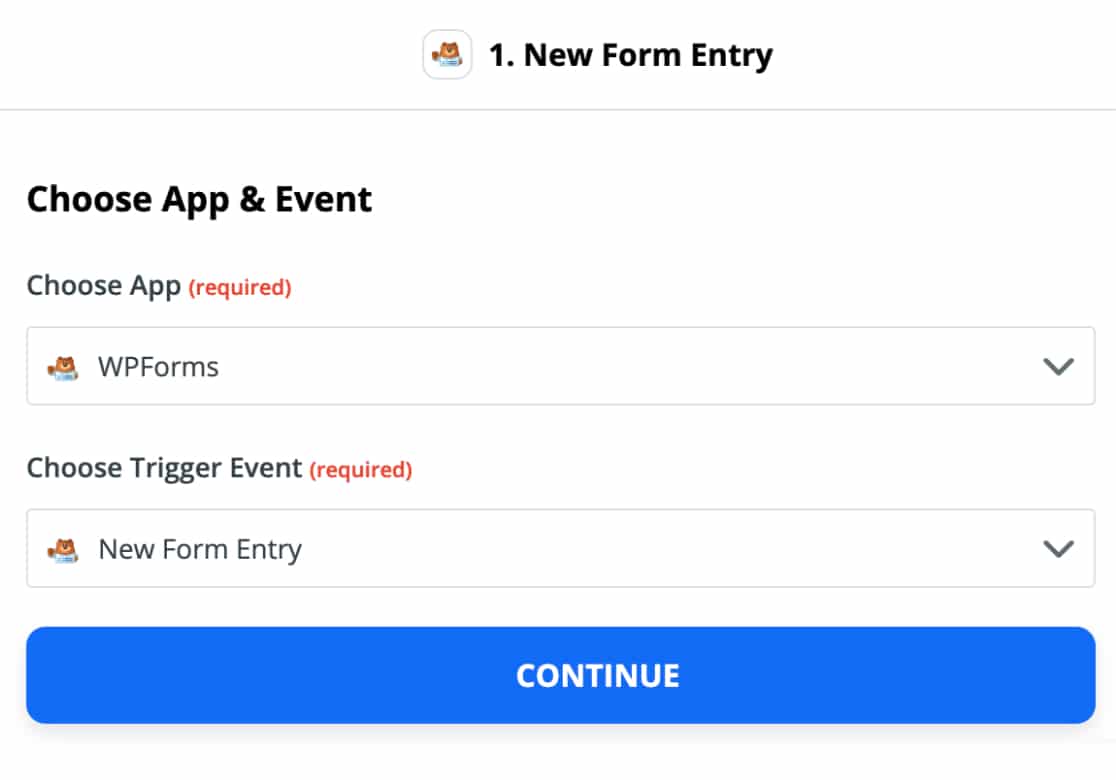 Now you can connect Zapier to WPForms on your website. To do this, click the Sign in to WPForms button.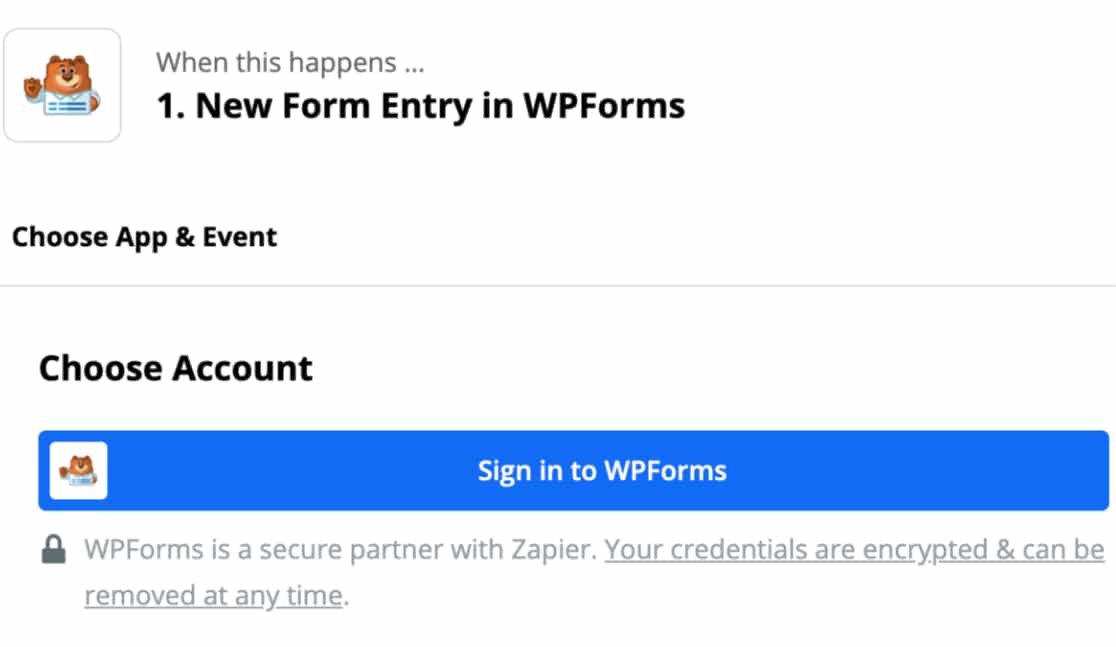 Now, you'll need to add your API Key.
To find your API key, go back to the tab/window where you kept your WPForms Settings open in our first step. Then copy and paste the key here.
Next, you'll need to fill out the Website field. Be sure to enter the full URL of your website and include the trailing slash (i.e.: http://example.com/).
When you're ready, click the Yes, Continue button.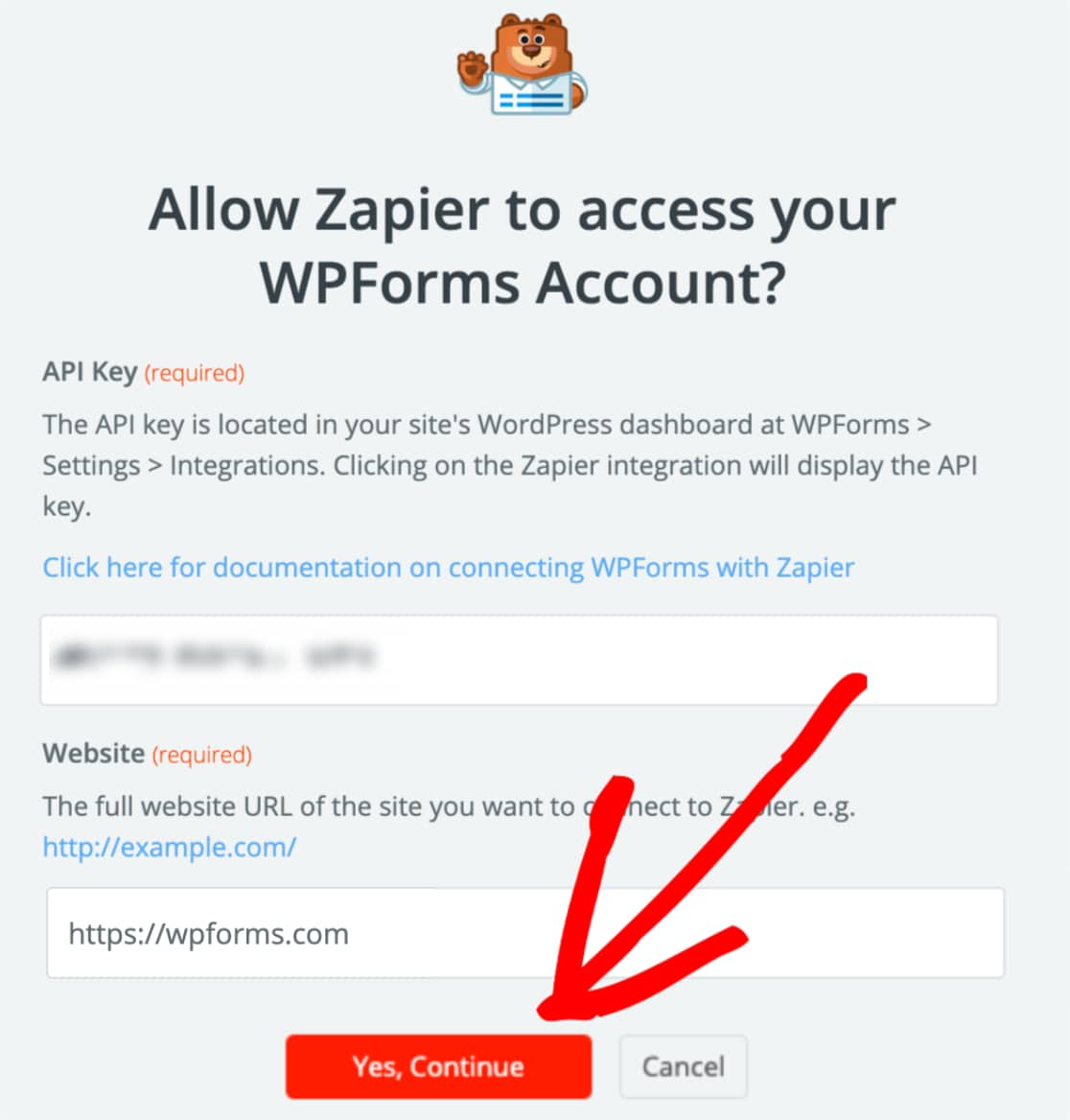 After your site is connected, Zapier will then prompt you to choose which account to use for your Zap. Click on the dropdown menu to select your site, and then click Continue.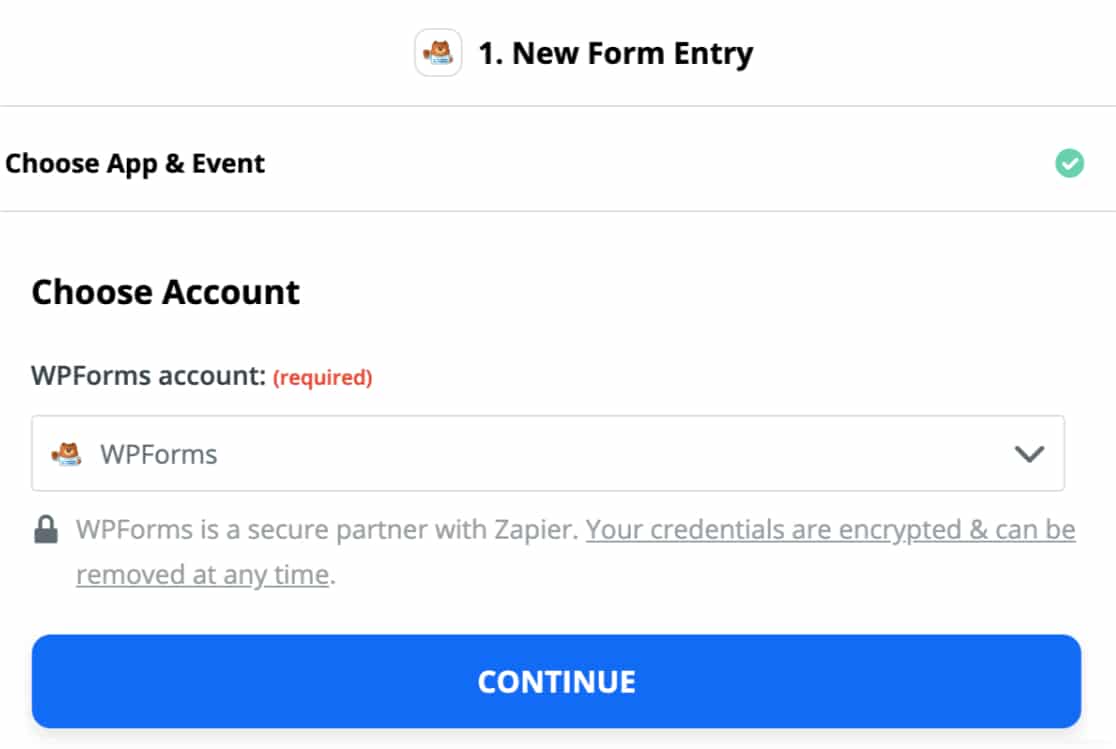 Up next, you'll see a Customize Form Entry step. Select the form you'd like to use and click Continue.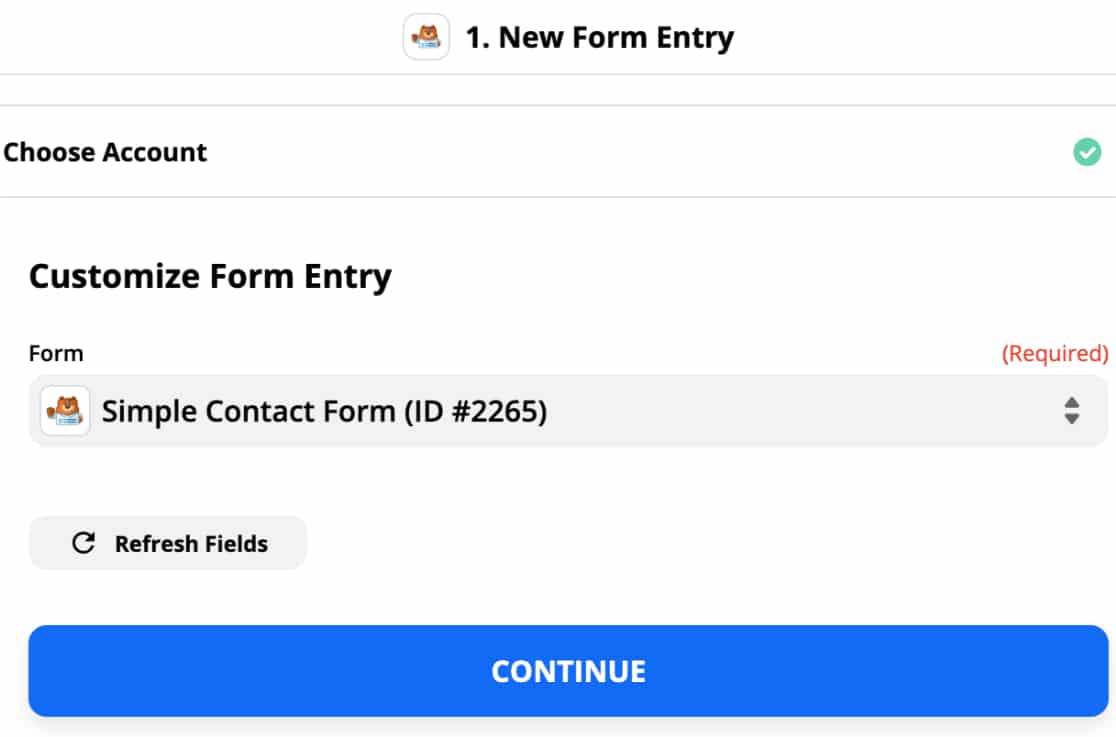 This is when Zapier will bring you to the Find Data step, which will give you a chance to pull in sample entries to test your connection.
Note: The form you selected in the previous step needs to contain at least one entry in order for the test to work.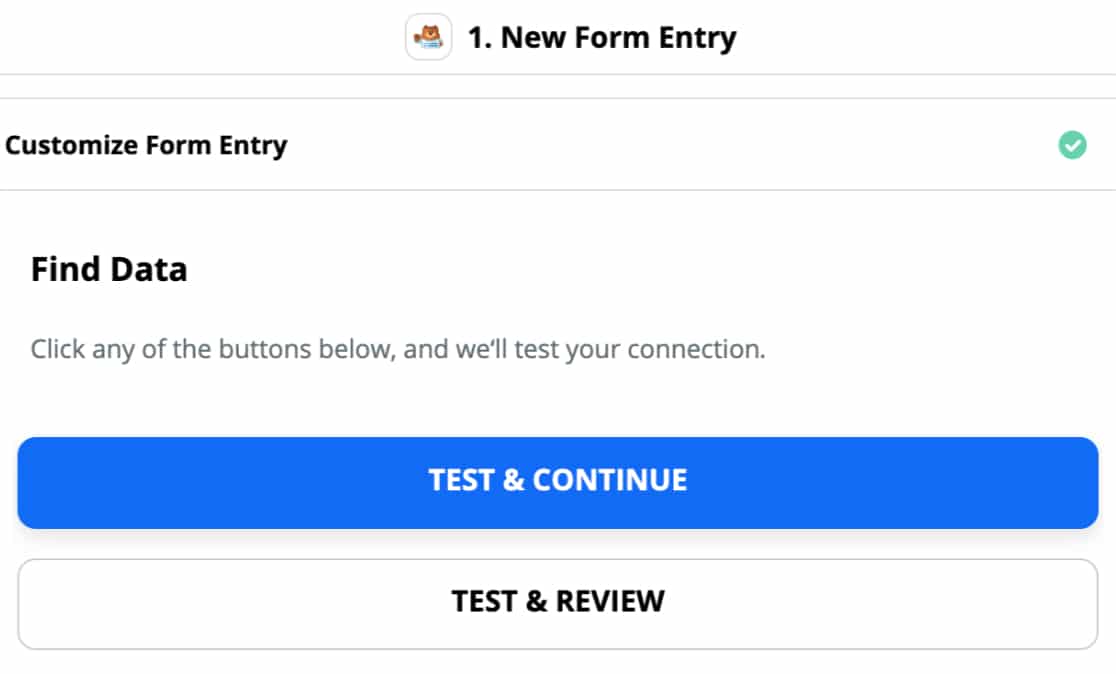 Did you select Test & Review? Then after a few moments you should see your form entries populate. Once these appear, you can expand the entries to be sure that all the data has been pulled correctly. Then, click the Done Editing button.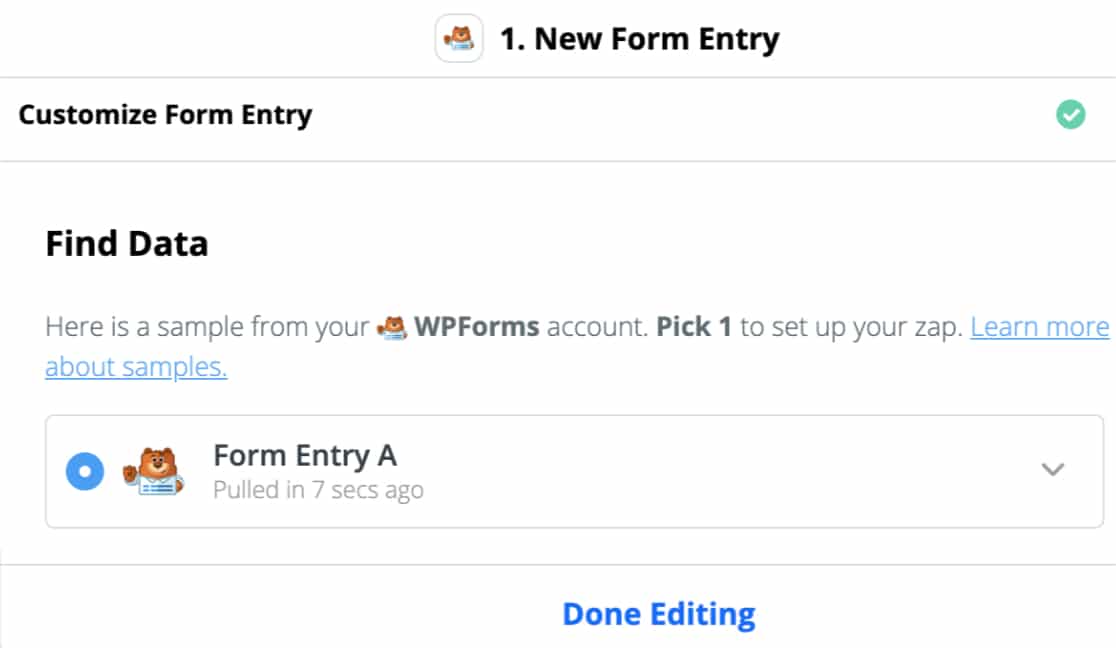 If you've selected the Test and Continue button, Zapier will automatically take you to the next step if things are working properly.
After checking your sample entries, Zapier will ask you to Choose App & Event.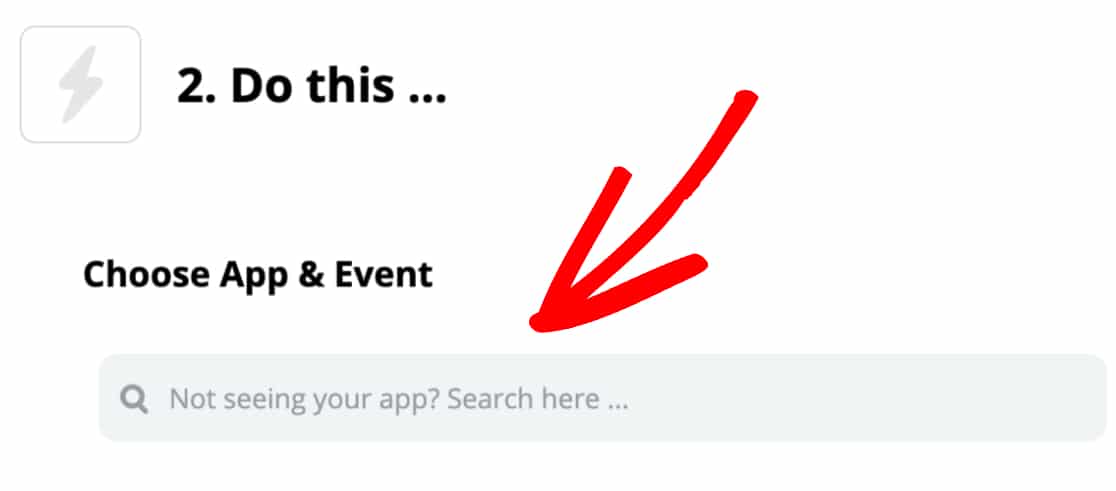 This app is the service you'd like to send your form entry details to. If you select an app, Zapier will walk you through steps to pass form data to your chosen service. The steps remaining will depend on the service you integrate with.