Are you planning to add forms and surveys to your blog? Then you need a form builder plugin which is reliable and is easy to use.
I know there are so many out there that you can't decide which one is suite your needs. That's why I want to make it easy for you to choose with this comparing posts between WPForms and Typeform.
This post contains an affiliate link and after your purchase, I will get a small commission but no extra cost to you. You only will continue to support my blog!
Pin this for later:
What you have to look in a form builder
When trying to find the most effective form builder plugins, you would like to spend time looking closely at each of your options in order to work out that solution is best for your desires. The form builder you select depends on the specific desires of your website.
If you would like to make contact forms for your website, you need to look at contact form plugins that provide all of the features you would like to have. Want to add surveys to your website? You'll want a form builder that provides those capabilities. Furthermore, if you would like the flexibility to own each, you have got to search for a form builder that enables you to create easy contact forms as well as a lot of difficult conversational forms and surveys.
So when it comes to comparing forms these factors should you consider when choosing:
Features  – Does your desired form builder have features you can benefit from?
How easy is it to use – Is it easy to use even if you are a beginner?
Price – Is it suitable for your budget?
Support – Will you get the help you want?
In this post, you will find out how these factors look like at WPForms and Typeforms.
A little overview of the 2 form builders
WPForms
WPForms is the preferred and most beginner friendly form builder plugin on the market. With their drag and drop builder, you'll be able to simply produce online forms for your blog in a matter of minutes, while not having to touch a line of code at all. WPForms makes it easy to make powerful contact forms, survey forms, online order forms, email subscription forms, and more.
WPForms offers a large of pre-built form templates to get you started quickly on building a form that meets your precise needs. Plus, all the forms you produce are 100% mobile friendly, which means your website guests can access them from their desktops, tablets, or mobile.
TypeForm
TypeForm is a tool with a lot of uses, which means you can create forms such as contact forms, quizzes, customer feedback, shopping carts and more. TypeForm focuses on creating surveys that are fun for your audience to fill out using their conversational format and ones that look great with their unique styling.
Features
TypeForm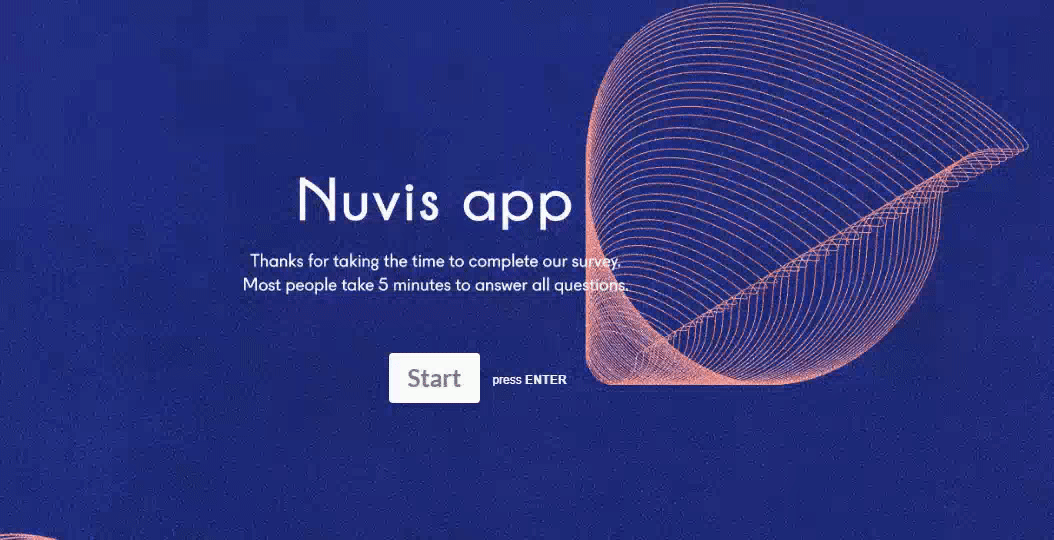 TypeForm's most well-liked feature is the ability to make conversational forms. Conversational forms facilitate keep users engaged and provide for higher user experience. Rather than filling in their answer and scrolling all the way down to the next question, with conversational forms users are automatically taken to the following question. It's more interactive and pleasurable for website visitors.
When making conversational forms, TypeForm also provides a Logic Jump feature to create your forms smarter. This feature permits you to ask completely different questions based on the user's answer to the previous questions also as show customized endings supported the answers given.
WPForms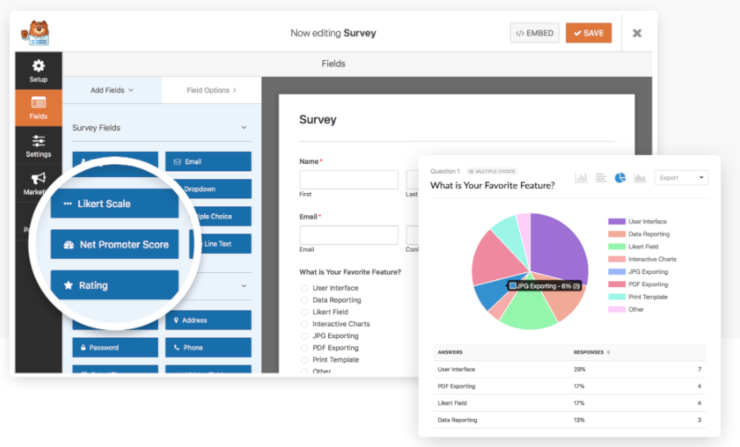 WPForms offers a variety of amazing features right out of the box to assist you to produce powerful contact forms and surveys, also as a large array of different kinds of forms as well.
With their Poll/Survey addon, you'll be able to simply produce a poll or survey for your WordPress blog. The Poll/Survey add-on comes with a variety of unique kind fields to create a strong form for your business as well as multiple selections, checkboxes, star ratings, Likert scale, Net Promoter Score, and more.
And now you can create conversational forms with WPForms as well.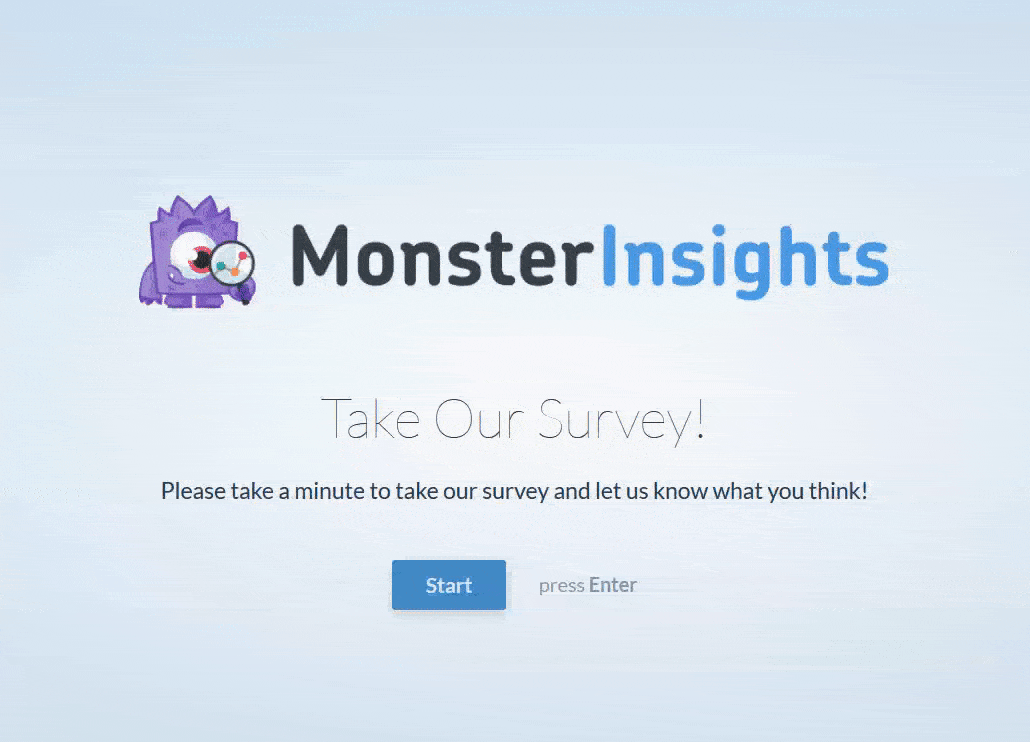 You can produce additional interactive forms that boost form completion and reduce form abandonment with WPForms too. The whole conversational form layout makes your online forms more personal, sort of a face-to-face conversation with a follower.
WPForms also offers smart conditional logic that works each with conversational forms and different form varieties, therefore, you'll produce highly-personalized forms based on the answers from users.
With WPForms you furthermore may get interactive survey reports with real-time insights, you'll even show real-time results from polls on your website. this form builder plugin also provides you the power to just accept online payments with Stripe and PayPal and it simply integrates with all of the top email marketing services.
What other features you can find in WPForms which TypeForm doesn't have:
User Registration – Create custom WordPress user registration forms for eCommerce sites, membership sites, and forums.
Custom Captcha – Add custom questions and math Captcha.
Geolocation Data – Use geolocation data to learn more about your users.
Signature Addon – Allow users to sign your online forms with their mouse or touchscreen.
Form Abandonment Addon – Unlock more leads by capturing partial entries from your forms.
Ease of Use
TypeForm
If you use TypeForm you could build up your own survey form or you can choose from many pre-made one. So that is why it's so simple and easy to create your form.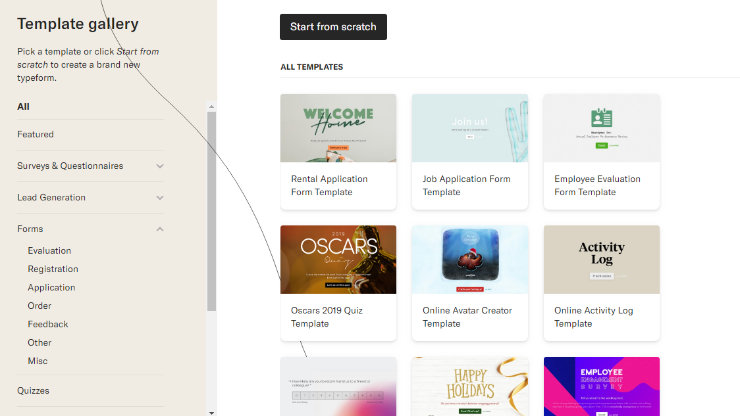 There are templates for a survey, questionnaires, feedback and many more. When you select a template it comes with pre-written questions. If you wish to change them, simply click on the text and begin writing. selecting the questions for your form is simple enough however customizing your form for style or adding a brand new question will become a bit more confusing for beginners.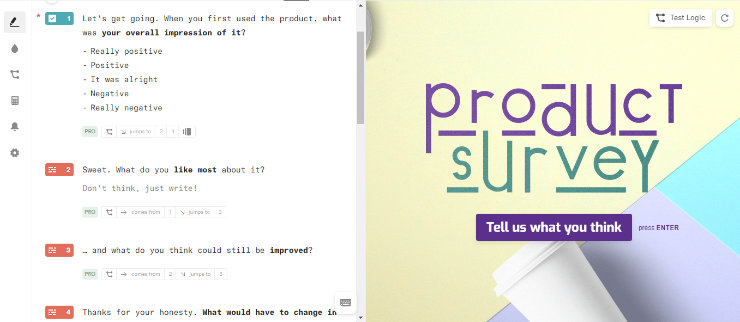 As far as making a contact form for your website, there's no easy way to get laid. They don't have any templates for it, therefore, you've got to begin from scratch. Plus, you can't simply add fields to your form, you have to write down a question first.
In addition, to add your online form to your website, you need to copy and paste the code TypeForm provides into your page's HTML wherever you want it to seem, which may even be a tough task for beginners.
WPForms
Now if choose for WPForms you will get a user-friendly form builder. You don't have to copy and paste codes which will save you time. You will able to create complicated conversational forms and others in no time.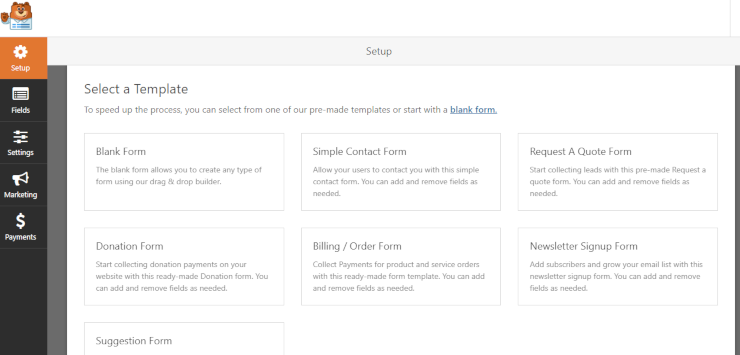 You can choose for pre-built templates which are simple contact forms, request a quote form and more. But of course, you can build your own as well.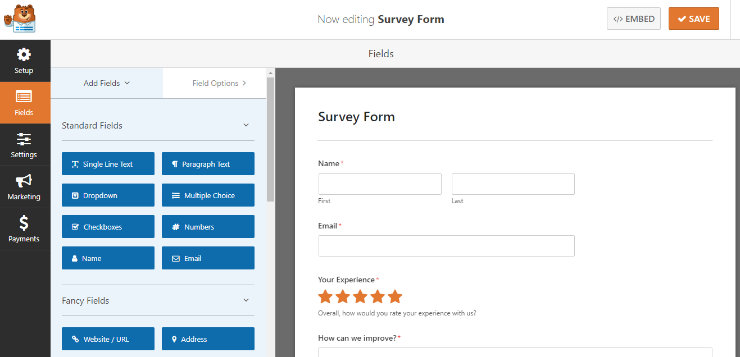 Customizing is so simple with this drag-and-drop builder. Delete with 1 click or add new field easily with just dragging to the left. And with one click you can turn it in a conversational form.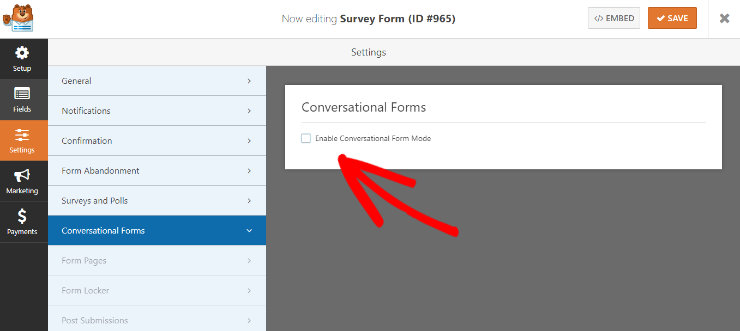 You can put the form in any pages or any post you wish and there is also a widget included.
Pricing
TypeForm
They have Free, Pro and Pro+ plans which will allow you to create unlimited forms, but you only can receive 100 responses/mo and add 10 questions with Free plan.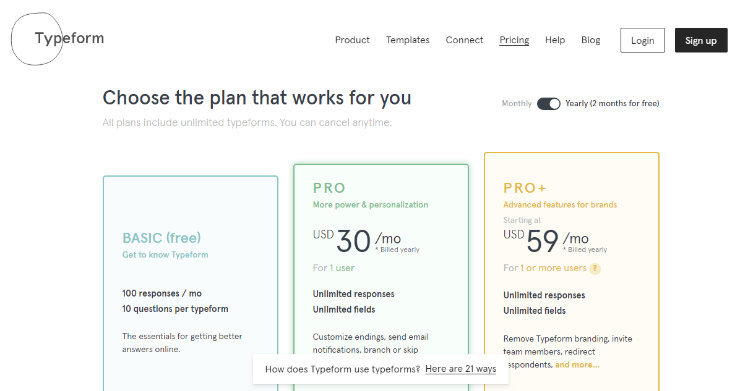 You can even remove the TypeForm branding without purchasing the PRO+ plan and that's really expensive if you only starting out as a new blogger.
WPForms
Now with WPForms, it is a bit different there are 4 plans available and even with the Basic plan, you can still benefit from the plugin. You will get the ability to create and receive unlimited forms.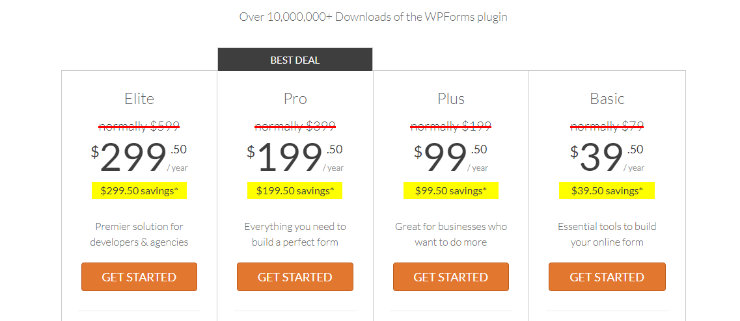 If you wish to integrate the payment and conversational feature you need Pro plan wish is really popular.
Support
Both of them have a lot of support opportunity TypeForm has written all the things down how you can create, customize and build a form and also have a blog with tips, but contacting the support team is really hard they only available Mondays-Fridays in business hours and limited time for weekends, so if you run in problems you might have to wait long for a response.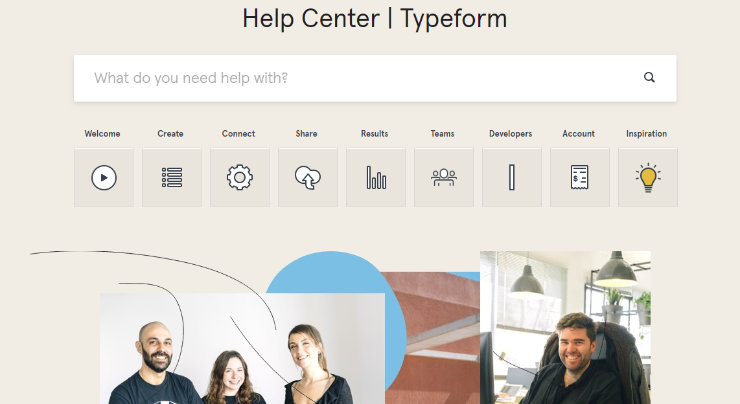 But with WPForms you not only get great tips on a blog but also you will get technical or basic help within 24 hours. They provide also a document with a lot of help to create your forms in a form as tutorials and much more.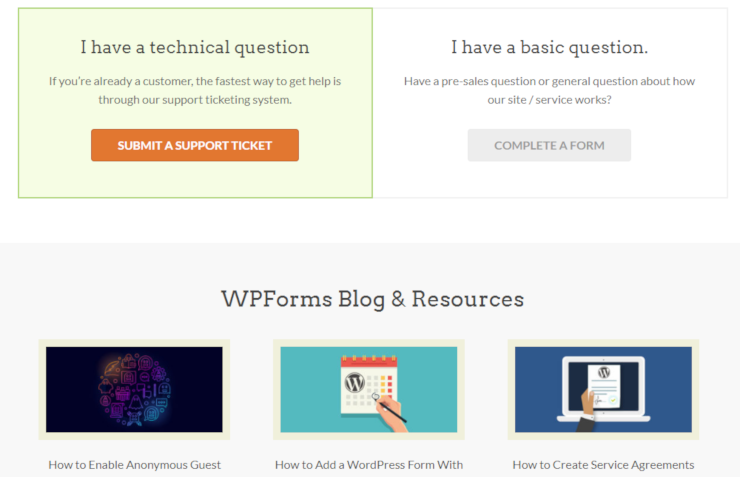 So who is the best?
In my opinion, WPForms is the winner in each way it is easy to use, you get all the things you need with the basic price as well and there is a lot of features you can use. I don't have much time to put forms together and that's why I have chosen for WPForms cause it's saved me time.
So if you want to try out go get started with WPForms today!